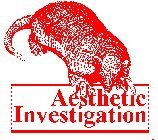 Website Provider: Outflux.net
URL: http://jnocook.net/stuff.htm
---
Installations and Stuff
Things I can't place elsewhere.
Most of the texts shown below are from catalogs, and perhaps too terse.
I'll add comments when I have time, later.
---
Jan 25, 1994
Jno Cook / Statement / Boston MFA
I work with discarded machinery and parts -- materials which others have created for other purposes.
I am not interested in the use of neolithic or bronze age materials. I am also not interested in revealing underlying principals of operation, to suggest, for example that radical to the nature of a machine is movement or sound or light.
I think, in fact, this would badly misread the postulates which define a Machine: which is to do something -- it is a tool with a task to accomplish.
I see machines, thus, as tools -- in their ability to work, but also as extensions of the human in their ability to suggest metaphors, to speak to conditions of feelings and desires. Personally I like to define the machine as a devise which reveals an idea by processing it mechanically, where the process expresses my attitude.
I don't really build machines -- I don't start with a handful of materials and think of something which can be done with it. I come at it from another direction. And although I have a notable collection parts and junk, acquired sometimes for other purposes, some donated to me, some left with me like orphaned children, the genesis of a new device is not a matter of breathing life into this primordial collection of gears and nuts and bolts in my basement.
It is, instead, an intersection between an accumulation of personal ideas and attitudes and reactions to contemporary issues, and the junk pile. Sometimes a particular idea presses forward and suddenly demands expression, more often an incipient idea is greeted one day by just the perfect materials showing up out of nowhere and igniting to consciousness some thought or idea.
end
---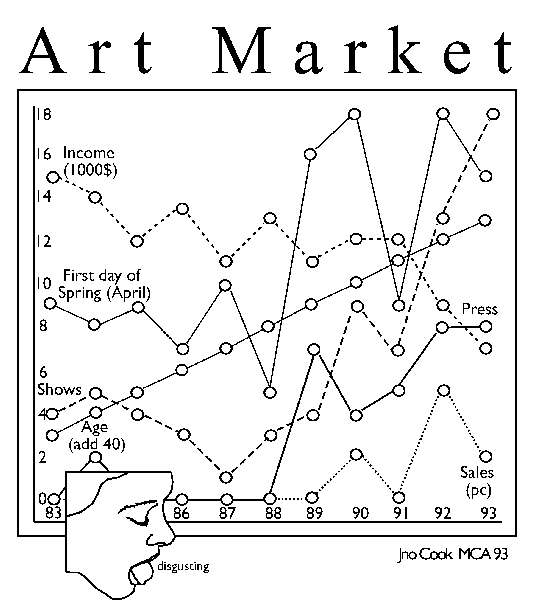 Art Market
---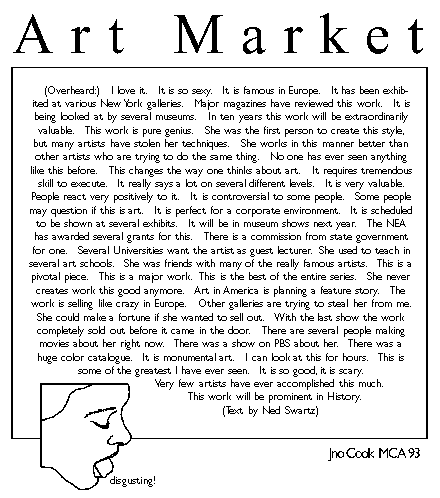 Front of MCA Tee-Shirt.
This was done for some MCA fundraiser circus, in fact in the very block where all those galleries burned down in '92 or '93. Tents and drinks and bands, and big deal hoopla. The type of affair where I feel completely out of place.

And one of the minor attractions was a set of T-shirts made by artists which were auctioned off to the art public at large with no return to the artists. I think this went for $250.

The image, if you are wondering, is a line drawing traced from some pornographic image. (Imagine then, what is going on.) The graphs explain themselves, although I should perhaps explain "the start of Spring."

The start of Spring is not a weather or calendar event, it is biological. Since I spend a lot of time on my back porch, smoking and staring at the yard, I had a complete record of the start of Spring, based on when the Lylac bush first opens its buds.

The front is a list of "overheard" gallery owner drib-drab, concocted by Ned Schwartz, owner of Beret International Gallery, and also the text to "Readings from the Book," a piece described further below.
---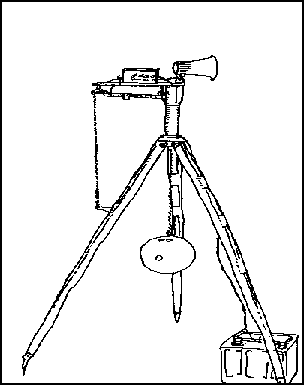 "Waiting for Armageddon: Gravity Monitor"
Normally static, but could be tripped by a change in gravity -- alarm will sound. Requires a 12 volt lead-acid car battery. Alarm may be set to latch "on," so that momentary lapses in gravity can be detected.
This device is part of a projected series of detectors and monitors (deluge, famine, pestilence, conflagration), all to be wired into a central "Second Coming Detector," and envisioned as a permanent installation which will support the ultimate concerns of global ecology. The remaining elements of the "Second Coming Detector" are not off the drawing board yet.
The original idea was suggested during an interview with Alan Cohen for a catalog for an exhibition at List Visual Arts Center. The question was, "What are you going to do now?" That is, after having built all those cameras.

Thinking of a bowlingball I had placed on a 57 pound collimeter stand in the back yard, I suggested "Gravity Monitor." What I had in mind looked sort of like a mortar aimed at my nearest neighbor.The bowling ball remained in the final picture.
Constructed from a surveying tripod, a bowling ball, the balance arm of a platform scale, a car alarm, and assorted springs and wires. When gravity fails the ball releases the tension on a spring which sets off the alarm (electronics and springs are not effected by a lack of gravity).
HWD: 72 x 34 x 39" Reclaimed materials, 1990
---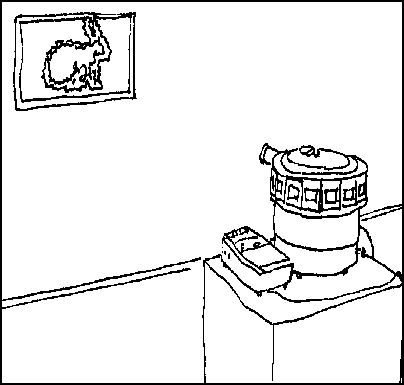 "Hard Copy: Endangered Species"
I have saved from extinction certain of the endangered species from cyberspace. These creatures, plus thousands of other forms which exist today in the magnetic substrate, are threatened by the volatility of the medium, and the rapid loss of interest. Already my printer has suffered from electronic malfunctions, and only the barest outlines are returned from the once magnificent vector objects in 257 colors.
I hate clip-art, and electronic clip-art even more, but the realization that these forms, although reduced to a handful of pixels, could be recognized even by a two-year old, led me to cast these images in a more substantial medium. They are part of a continuous heritage, for the forms have been diligently taught by each generation of parents to their small children since the lion went extinct in Europe.
Screen-prints of *.WPG vector graphic files, printed in the absence of a graphics driver, and on a dot-matrix printer. Lith film negatives and slides made. As black and white slides (with reversed "backup" copies) these will last a thousand years. Voice computer generated via Soundblaster support.
HWD: 9 x 11 x 16" Reclaimed materials, audio , 1992
---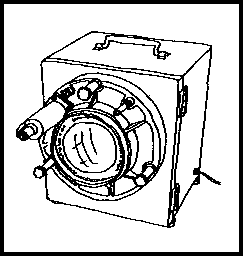 "Turning Incoming Missiles to Stone"
(The Gorgon Projector)
This is an infinity-focus projection system (a collimated image), as a model for a proposed SDI weapons system project. Because the image is collimated, it remains the same size as one moves away from the projector, and stays at the same intensity.
Titled "The Gorgon Projector," it is meant to turn incoming missiles to stone. This project will require extensive testing and funding, probably at least $2 billion in Federal SDI funds.
I am currently using the head of a doll for an image, which doesn't work (that is, it doesn't turn incoming missiles to stone, yet). I may want to use a more effective image, perhaps the face of the SDI Architect with snakes in his hair.
The case of a Navy sextant, parts of an aerial camera lens collimated to infinity, the head of a doll, lamps, a blower, timer, small DC motor for the eyes, which blink every minute.
WDW: 12 x 14 x 10" Reclaimed Materials, 1992
---
All Weather Sun Dial
An IBM stand for some sort of equipment, found in an alley, a 24 hour timer made to run backwards, one of those cute reading lamps which operates on 12 volt, and a sun-dial which sat in my yard for years, on bricks or upturned flower pots, but would never tell the time except at those moments in Spring when the sun actually came out (and generally at about 11 am).

And then came the latest geophysical news that earth was expected to go into an everlasting cloud cover, called the Greenhouse effect. This, the all-weather, resettable, day-and-night electric Sun-dial, was the only solution.
---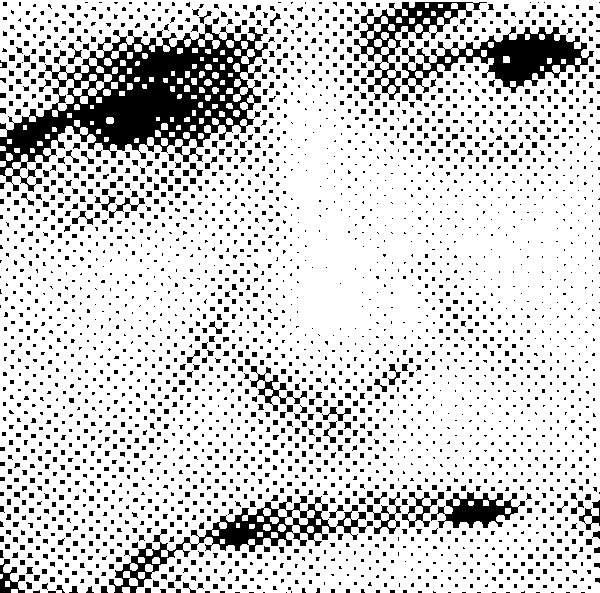 A New World Order
"Get out of my garden," God said to Adam, "and take her with you. You've been stealing, and dealing with the devil."
That's how it went 6000 years ago. God threw them out and posted an angel with a flaming sword at the gate. With that a "new world order" was started.
He did this once more -- in Noah's time -- but then promised never to pull such stunts again, placing a sign in the sky as a reminder to Himself.
But others took up where God left off. Moses declared a new world order, and Christ, and Mohammed. In this century the call was sounded by war-mongering dictators.
Then, on January 16, 1991, George Bush, in a speech announcing the bombing of Iraq, declared another new world order.
What a strange coincidence, that at the confluence of the same four rivers where Genesis places Paradise, we again have an expulsion of stealing, devil-dealing children, again a flaming sword.
Introduction for an exhibition of student work from "Experimental Photographic Techniques" and "Digital Darkroom." Jno Cook and Michael Ensdorf. It attempted to answer the question, "What New World Order?"
---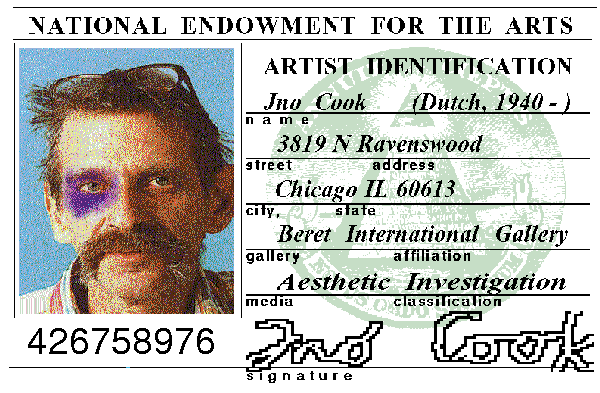 Often passed as real.
---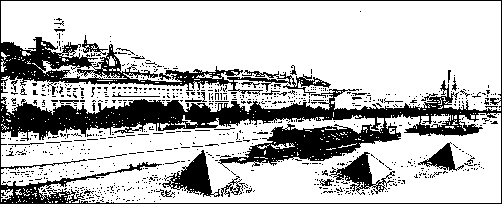 Pyramids on the Danube
Thu May 6, 1993
Dear Gabor CSASZARI,
The following graphic is about 60 centimeters long -- and full of Norman boats found again in the computer. I hope this will do. I will not send any copies by mail now that I know that it will get there by telephone.
About the pyramids: I was asked last year to display some outdoor sculpture in Indiana, at a location which was unguarded, and alongside a river. I needed something which couldn't be thrown in the river. I thought pyramids looked solid enough that the kids wouldn't throw them in the river. Actually, they started to use the pyramids as skateboard ramps.
This week I am floating two of them in the Chicago River. One is sinking right now, and I have to get it out. So much for pyramids.
Let me know what this new fax is for.
jno
---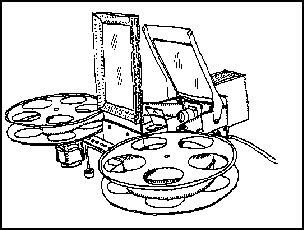 "Evidence Against the Future: Children"
I have seen the population of the earth reach two billion, and have seen it go to four billion and five. Before we die we will probably see it go to 8 billion.
We have been born into a marked generation: it will be the only time in all of eternity that 90 percent of all human who have ever been born are alive at the same time. It may also be the generation which will forever destroy the earth.
These 10,000 images of children sitting on Santa's lap were originally taken by some commercial venture. They were found as negatives on 35mm color-negative stock and stored mostly on 100 foot reels. The negatives cannot be dated or placed, they may be 20 years old -- it doesn't matter. It is, at any rate, our generation, and more importantly, the next.
The negatives were edited to remove leaders and blank frames, and to align all the images to a 4-perf cine format. A projection print was made of the 700 foot negative. The complete showing takes 17 1/2 hours. A timer, when pressed, shows about 5 minutes worth from the whole collection. The projection equipment is a Navy surplus data recording camera; lens from a 1927 Kodak projector, placed on the inside; lamp housing and condenser system from a slide projector, placed on the outside; mirror from a Polaroid camera; reels are standard equipment; frame from Woolworth's; other stuff from surplus outlets and hardware stores.
WHD: 31 x 15 x 20" 10,000 slides, Reclaimed Materials, 1990
---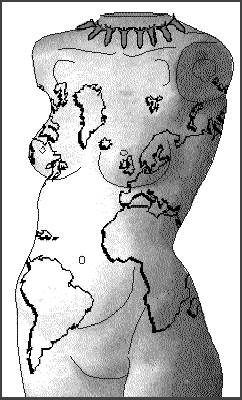 Mother Earth as a Young Woman
Got the dummy and the stand from Barney's of New York, to be decorated for some Christmas show window with a dozen other artists. I added the Xerox machine motor to have it rotate slowly toward the East. The map is actually marked in Dutch, but that has no bearing on the project.

The anarexic dummy has the world map glued up everywhere, stretching topography somewhat, with the naval somewhere in the mid Atlantic (I know, the naval of the world is supposed to be at Malta) and Greenland on the right breast and Australia on the right buttock.

The original display featured a wreath of holly, with green soldiers woven in, and a necklace of small bombs. Originally titled "Protecting the Peace," I have removed both decorations, for no viewer ever noticed them, and the title also. We are left with "Mother Earth as a Young Woman."
---
Protecting the Peace
This is actually the invitation card for "Protecting the Peace," above. Reproduced a few years later as the back cover for Greg Cook's "Oatmeal Journal."
---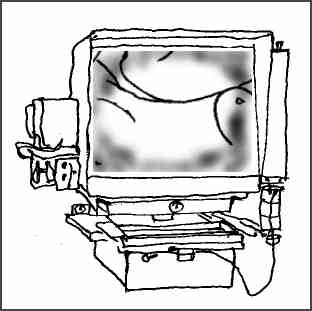 "Frustrating Jessy Helms"
(Not the Whole Picture)
Having experienced the recent withdrawal of galleries from sensitive subject material, I have given some thought to what it is that makes certain images objectionable.
This has led to the use of a micro-fiche reader -- a device which never allows one to see the whole picture -- to scan an image of two people totally naked, and in the act of making love.
Rather than allow viewers to zero in on details, the machine takes the lead, and randomly scans the image, never allowing much sense to be made of it.
What a job this was to put together. To give some idea, I have reproduced the wiring diagram below. The random movement is generated mostly by a pair of mismatched timers. The gearmotors which move the platform reverse direction when they hit limit switches, so that the movement looks like an edgebounding screen saver.

Once every few minutes the complete image is superimposed on whatever appears on the screen. This is done via a small slide projector mounted on the side of the box. The complete image lasts only a fraction of a second.

The thinking here is that pornography requires a complete image, a figure. The complete image is here, but the pieces have to be connected in the mind. This fractured imagery is only pornographic if you admit that it is all located in the viewer's mind.
Micro-fiche reader, altered to reposition a transparency with two gearmotors randomly controlled with interrupt timers and limit switches, lamp dims during movement; small 1/2-frame slide projector added to operate for 1/4 second every two minutes.
HWD: 18 x 20 x 23" Reclaimed materials, 1992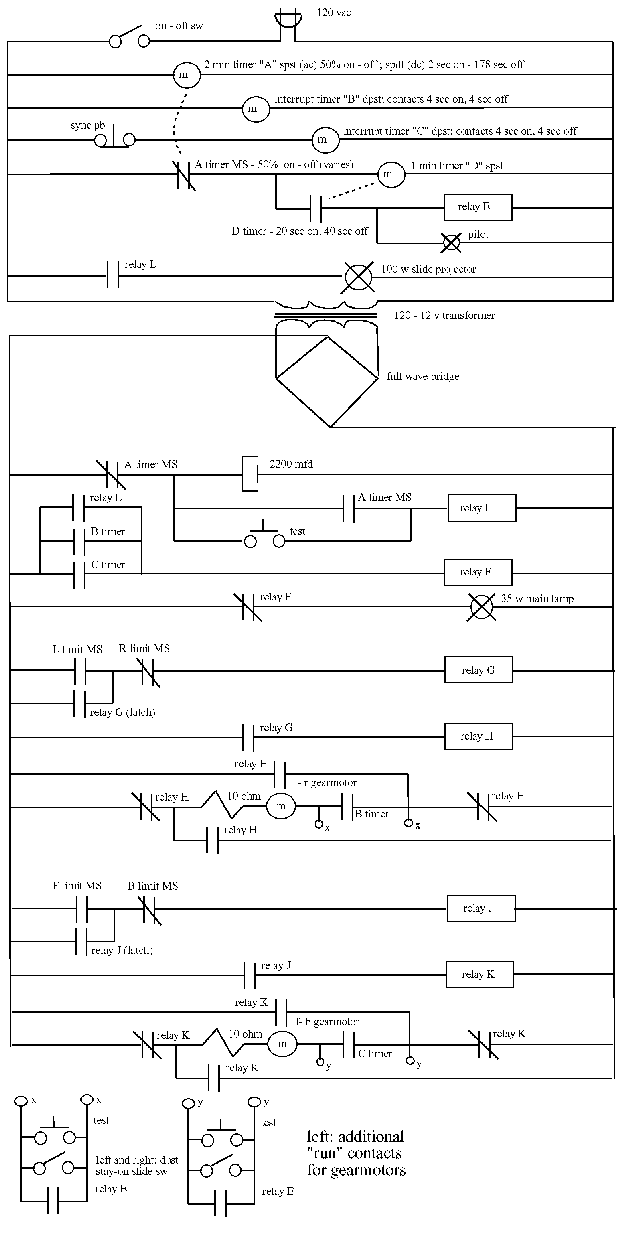 ---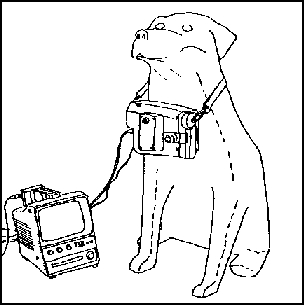 "Rottweiler Camcorder"
Dog-mounted portable low resolution video camcorder. The dog is used here to model the reworked camcorder. The actual purpose was to record walks from a dog's perspective.
This was done, with the help of a battery-pack harness also worn by the dog. It was mostly footage which swings wildly back and forth between automobile hub caps and the fences in front of houses.
At some points the whole of the image is occluded by a crescent dog chin which covers the lens as he sniffs the ground, and an occasional long still image of tree branches. There are few other interesting points of view. The low resolution and slow scan rate of this camera makes the whole of the tape rather bizarre and difficult to view.
The dog was Zita Sir Puppy, a famous Rottweiler, frequently seen at art galleries, openings, and just about anywhere I went.
This is a Fisher-Price camcorder altered to be carried by a large dog. The video lens of the camcorder was removed and relocated to the side of the recorder, and the viewfinder and battery compartment were hacksawed off. Straps were added so the camera could be carried around the neck of a Rottweiler. A battery-pack was built to be carried on the dog's back. One videotape was made of a dog-walk; additional work awaits a solution to the jarring swagger of Rottweiler gait which blurs the video image.
HWD: 25.5 x 21.5 x 24" Video, Reclaimed Materials, 1990
---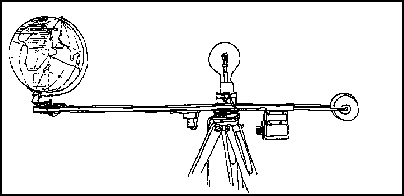 "A Slackening of Creation"
The phrase is from Seneca or Ovid or Pliny. It struck me as very sad, and I have carried it around with me for many years. In 1990 I built a visual model descriptive of the thought.
This is a kinetic model of the Solar System, which condenses 30 billion years to three minutes, including the death of the sun, and the slowing and stopping of the earth's orbital and sidereal motions.
It starts up when a viewer is sensed. The lamp starts at 1000 watts, with the globe and arm spinning at high speed.
Over the next three minutes the lamp very slowly dims, the arm and globe slow down. The globe stops spinning at about 2 1/2 minutes, the arm stops revolving at about 2 3/4 minutes. The lamp goes completely out at three minutes. Resets in 20 seconds.
Constructed from a surveying tripod, a one-thousand watt lamp (rebuilt to fit a mogul base screw socket), and a 12 inch globe, with the addition of various gears and bicycle chains, small motors (including one from my VCR), and an altered Variac. Activated by means of an ultrasonic intrusion alarm. The globe spins and rotates about the lamp at a distance of about three feet, tilted at 23 degrees, and maintains the proper orientation with respect to the stars in space.
HWD: 71 x 61 x 61" Reclaimed materials, 1990
---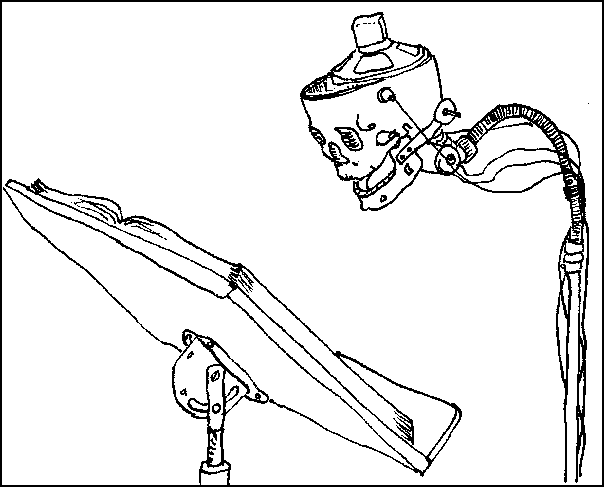 Art History Lessons
Oct 28, 1994
JOEL LEIB
TEN IN ONE GALLERY
Dear Joel;
The piece is titled as follows:
"Readings from the Book" Jno Cook, 1993
HWD: 62 x 23 x 35" Reclaimed materials
Additional text by Ned Schwartz.
Courtesy of Beret International Gallery
Anecdotal description:
The original purpose was to build an oracle for art dealers. The design was to be like the talking brass skull of one of the Greek oracles of antiquity. Dealers could question the skull on how well certain pieces might sell, and would receive enlightening advice.
This piece mixes the overheard sales-pitches of contemporary dealers (collected by Ned Schwartz) with the pithy conclusions reached about art of the past by Jansen ("The History of Art"). The use of a book (especially THIS book) is important, in that the art community represents a "People of the Book," as defined by Mohammed.
The repeating tape which is "read" by the skull was produced on a computer, using a sound card (Sound Blaster). The jaw of the skull follows the audio track by using a DC motor which is fed a signal processed by an operational amplifier.
The text below was formatted for Sound Blaster. From Ned Schwartz.
I love it.
It is so sexy.
It is famous in Europe.
It has been X hibbitted at various New york gall e rees.
Major ma ga zines have reviewed this work.
It is being looked at by several mu Z ems.
Collectors are buying it and crating it.
In ten years this work will be extraordinarily valuable.
This work is pure genius.
This was the first person to create this style -- but many artists have stolen his techniques.
He works in this manner better than other artists who are trying to do the same thing.
No one has ever seen anything like this before.
This changes the way one thinks about art.
It requires tremendous skill to execute.
It really says a lot on several different levels.
It is very valuable.
People react very positively to it.
It is controversial to some people.
Some people may question if this is art.
It is perfect for a corporate environment.
It is scheduled to be shown at several exhibits.
It will be in museum shows next year.
The NEA has awarded several grants for this.
There is a commission from state government for one.
Several Universities want the artist as guest lecturer.
He used to teach in several art schools.
He was friends with many of the really famous artists.
He was responsible for the first commercial successes of De Kooning and Jasper Johns.
This is a pivital transition piece.
This is a major work.
This is the best of the entire series.
He never creates work this good anymore.
Art in America is planning a feature story.
The work is selling like crazy in Europe.
Other galleries are trying to steal him from me.
He could make a fortune if he wanted to sell out.
With the last show the work completely sold out before it came in the door.
There are several people making movies about him right now.
There was a show on PBS about this.
There was a huge color catalogue.
It is monumental art.
I can look at this for hours.
This is some of the greatest I have ever seen.
It is so good, it is scary.
Very few artists have ever accomplished this much.
This work will be prominant in HIstory.
---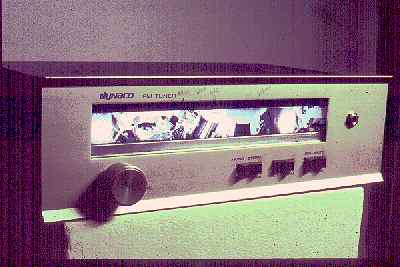 Watching the War on Television
A 12 inch long film loop, running past the window of an FM tuner gone awry. Backlighted with a very small flourescent lamp. the original negative was a roll of Tri-X film run through a slit-shutter (panoramic) camera, and the print is a contact printed piece of 35mm lith film, exposed in some device of my own construction which may be found somewhere on the "camera" page.

The slit shutter camera was mounted on a tripod, with the bed mounted at an angle so that the camera scans the room at a tilted sweep.

The point was to record participation in the Gulf War. Kees is on the couch, picking his toes. Zita is on the couch, sleeping.
---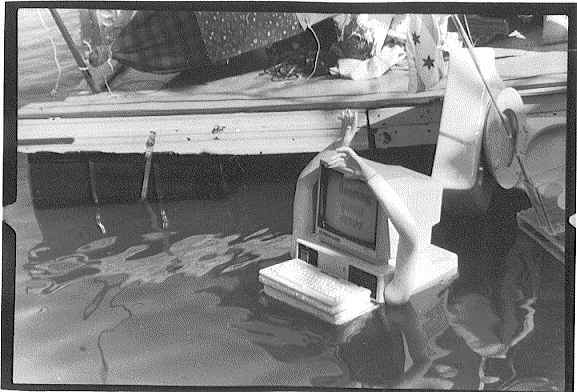 Floating Point Error
See the Flotilla page for more details.
---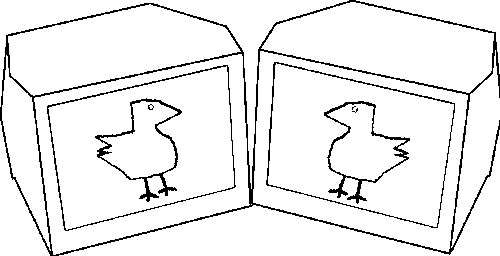 Hexadecimal Dialog
See the link to "NO CARRIER."
---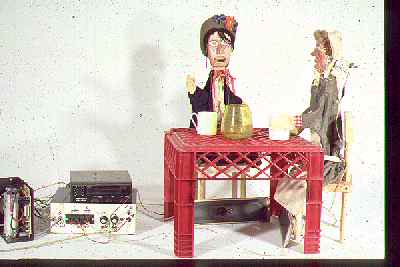 Talk About the Weather
---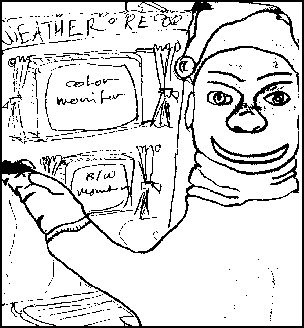 "The Track of Hurricane Hugo"
(Weather Report)
Weather is boring, and even more so then when presented on Broadcast Television as Mother Nature's unending soap opera, embroidered with statistics and scientificism.
I have here presented my version of TV weather, using puppets and puppet theater as the medium. The use of puppet theater for this project was meant to emphasize the inanity of broadcast TV and the transparency of the pseudo-science which is employed.
The audio track is from broadcast TV, however, and is its own parody. The tapes are coincidental with the travels of Hurricane Hugo in 1990.
"Weather Report" was first presented as two simultaneous video tapes, with monitors mounted in a puppet stage. Activated by an ultrasonic alarm, both tapes would start up to present five minute segments from two 20 and 25 minute tapes. A timer supplied the "start" and "stop" pulses to the video tape players.
The second tape dealt with the development of catastrophic global weather theories since antiquity, and features talking head puppets. The installation pointed to the degeneration of concepts of global weather when presented as entertainment on television.
VHS Video, color, sound, 25 min, 1990
---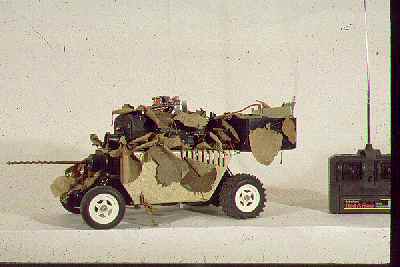 Getting Even
"Radio Controlled Car with Electric Drill and 16mm Gunnery Camera"
21" x 7" x 9" Roving Sculpture; with Remote radio control, Battery charger
On my street, on the same block, lives a man known to the neighbors as "Ice-pick Holly." He does not like other people's cars parked in front of his house. When I moved in I did not know this and on two occasions parked my truck in front of his house. The result in both instances was a punctured sidewall.
When I was told by neighbors that this was the result of parking in front of Holly's house I was furious. But there was nothing I could do about it, for no-one has ever seen him do it.
What I felt like doing was to blow out all four of the tires of his car. But Holly parks his car in front of his house at 6am each morning, driving it around from the garage in the alley, and at 6pm he drives it around to park it in the garage again. There is thus no chance to get even with him in the middle of the night.
I asked some of my kids to sneak down the block and puncture his tires. But Holly spends most of the summer days sitting on his front porch. And we also know that he carries a gun in his pocket. My kids were reluctant, even when I offered money.
My fantasy was to get even without being there. The "Radio Controlled Car with Electric Drill and 16mm Gunnery Camera" was the answer. The car is camouflaged with fallen tree leaves. It was meant to be launched from my location on the block and travel -- by radio control -- underneath other parked cars to Holly's house.
The electric motor on this radio controlled car has been changed to a low-speed high-torque gear-motor. The electric drill operates in the forward direction when the car moves forward, and reverses when the car reverses.
The Ni-Cad power pack adds traction to the rear wheels, and is able to supply a large amount of power for drilling. The Gunnery camera (not operating) is meant to get a record of the event. It operates from a separate radio control.
I haven't used it yet.
---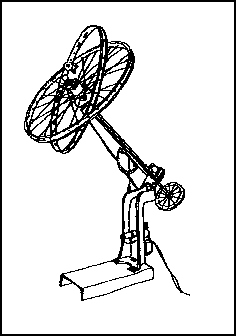 "Ptolemy's Universe"
(Natal Chart)
The two wheels represents the equatorial and the ecliptic. These two wheels revolve around the sky every day and night. The sun, moon, and planets travel along the ecliptic -- the Zodiac.
This is how the ancients envisioned the surrounding universe of stars and planets. We have wondered why they used this model, for they also knew that the earth was suspended in space.
At one time the Zodiac could be seen as a band of light. One source has it that this zodiacal light was last seen in 1840. Why the wheels do not coincide, and why the zodiac changes with the hours is the subject of much ancient intellectual discussion and accumulated wisdom, including the Tao -- the study of the path.
The sun, moon, and planets are located for March 26, 1976. All the lamps turn on or off with mercury switches. As the wheel rotates, the planets and moon light when they reach the horizon in coming up, and go out when they reach the horizon in going down.
The sun is a 35 watt lamp, the planets are milliwatt lamps. The current draw of the sun reduces the supply voltage for the other lamps to where they will fail to light when the sun is on. Power supply from a Sony TV set; stand from a 5x7 enlarger; wheels from bicycles.
HWD: 47 x 38 x 28" Reclaimed materials, 1991
---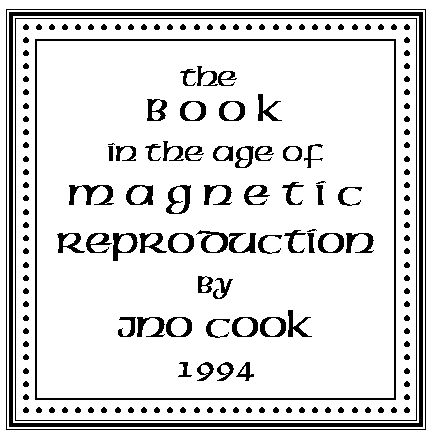 Electric Book
---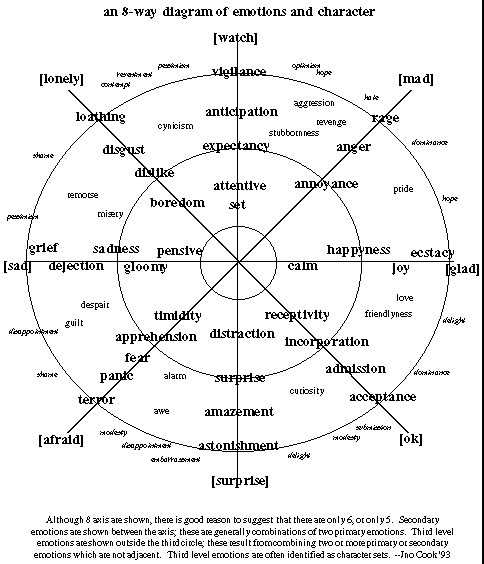 A Diagram of all 360 of them.
---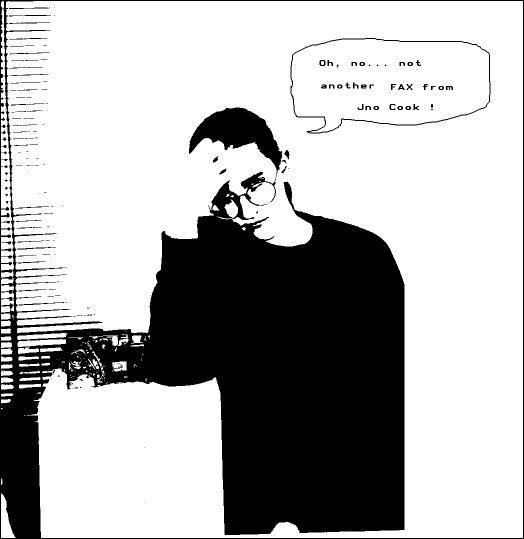 Oh No, Not Another...
---


"Closed Environment"
The image was taken with a home-made rotating slit-shutter camera, which sweeps a full circle in 20 seconds, and repeats this until the film runs out. If loaded with 100 feet of film, it will go for 1-1/2 hours.
The aesthetics of this media is peculiar: it is a moving, projected image, and therefore there are viewer expectations of a narrative -- a sequence in time. But the camera does not record time in any sensible manner, it records space instead. The resulting "films" can be projected at any speed, and in either direction; they can be started in the middle, or presented as still images.
"Closed environment" mimics the senseless, aimless, and arbitrary method of recording, which also describes the closed private environment found in backyards. Nothing really happens.
Commercial display unit, altered to accept a 35mm film strip and to operate at a very slow speed. The viewing aperture is 1 x 22 inches. Backlighted with a fluorescent tube. The image moves to the left, 5.5" per minute, and transits in 4 minutes. The transparency is a loop 150 inches long, and repeats every 27 minutes.
HWD: 4.75 x 30 x 6" Reclaimed materials,1991
---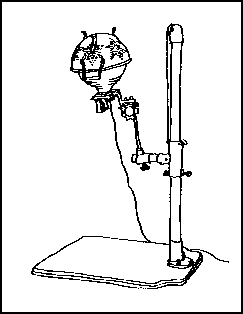 "Generic Constellation/Star Projector"
We have all learned to locate a few stars when we were young, like the Big Dipper, and the Colander, and other kitchen appliances. But mostly we cannot tell one constellation from another. They all look the same.
And away from our own neighborhood we cannot tell where NORTH is, no matter how many POINTERS there are in the sky.
To overcome this constellation dysfunction, I present the "Generic Constellation and Star Projector," a teaching aid for those who would like to impress their friends by looking up into the haze at night and muttering things like, "There is the Plaiedes, and there are the Radishes, and that is El-Gabong -- do you know that is rotates?"
This device is based on Chaos and the Ultimate Order of the Universe, as recently discovered by scientists.
Consists of a small 6 volt point-filament lamp, a lazy susan, a colander, a small DC gearmotor, and a rubber band. It projects a pattern of well ordered lights on the ceiling, and rotates to boot.
WDH: 24 x 18 x 60" Reclaimed Materials, 1990
---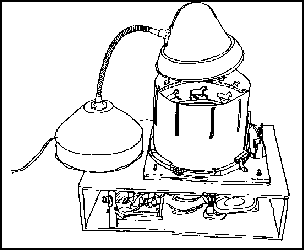 "Still Running"
Muybridge's Zoetrope has laid in disuse a century, for want of a sound system which could add an hypnotic ambience. This failure is inherent in the Zoetrope for it is an artifact, rather than a medium which passes through another machine to quicken an image.
The Zoetrope is a topologically closed surface, and requires a physical object to add sound: it required a prayer wheel, or a playing card clipped to a bicycle frame.
It was only through a coincidence, the conjunction of broken and disused objects arriving in one place at the same time, that led us to the discovery of the solution.
Sound is provided by the tonearm bouncing off pieces of tape on the edge of the turntable. The horses have been reversed in order; the jockey has been removed; and the horses' tails bobbed. The turntable was found in an alley. The needle of the tone arm was gone, but it still sensed hoofbeats of sound.
WHD: 25 x 24 x 14" Reclaimed materials, 1990
---

"Cussing Computer"
I searched through 33,000 words to compose a list of 212 nouns and 665 adjectives, and added a few suggestions from teen-age boys, mostly of the form, "---- head." The initial purpose was to be able to swear randomly, creatively, and diligently -- although not excessively -- and to avoid charges of indecency or obscenity, for I would not be the author, nor was there a material object.
I found my own censors, and removed racial slurs, gay bashing, and sexist nomenclature. This still left the broad categories of social misbehavior, looks, indecency, and stupidity.
Capable of creating 62 billion variation (using no more than three adjectives at a time), the machine nevertheless tends to repeat itself frequently. I do not know why this is. Any suggestions for new nouns and adjectives, and especially new phrasings, would be appreciated.
Find the link to "NO CARRIER" for more details.
An 8086 processor running DOS 2.11; 384 Kb of memory. The graphics were sketched in a CAD program, and the vocabulary lists written in WP5.1. The working program is 8 lines long. There is no sound support on the 2500, or we would have had it speak too. (A later version on a 486 included a talking program)
HWD: 20 x 19 x 16" Reclaimed Materials, 1992
The Basic program, and the lists of nouns and adjectives below.


10 ' called "cuss.bas" this is the revised program 2/16/93.
20 ' revised 12/95 to simplify, removes comments, add talk
21 '  this requires in config.sys... device=talk.sys
30 ' usage: QBASIC /RUN CUSS   or GWBASIC CUSS  [supply path]
40 ' included files: MINFACE2.DAT ADJECTIV.TXT NOUNS.TXT
50 ' MO1.DAT MO2.DAT MO3.DAT MO6.DAT MO7.DAT MO8.DAT MO9.DAT
60 ' Lists being loaded are 216 nouns, 676 adjectives.
70 ' this version: add word output to com port #1
80 SCREEN 1: RANDOMIZE TIMER: CLS '------------------------initialization
90 DIM A$(800), N$(300), ADJ(10): '----------- adj index set hi for which
91 A$(0) = ""
100 DIM MO1(20), MO2(20), MO3(40), MO6(40), MO7(80), MO8(60), MO9(40)
110 CLS : LOCATE 24, 10: PRINT "reading graphics";
120 GOSUB 960 '-------------------reads/WRITES BLANK FACE FROM disk files
130 GOSUB 790 '------------------------reads SEVEN mouths from disk files
140 GOSUB 510 '------------------reading word lists (ends initialization)
150 'OPEN "COM1:2400,n,8,1,cd,cs,ds,rs" FOR OUTPUT AS 2'-----open com here
151 OPEN "$talk$" FOR OUTPUT AS 3 '------------------------------talk file
160 '--------------------------------------------------- recycles at 180!!
170 DOT$ = "........................................."
180 WHICH = 0
200 LIN$ = "YOU ": N = INT(RND * 4) '-----------------number of adjectives
210 FOR K = 1 TO N: ADJ(K) = INT(RND * AA) + 1: NEXT K
220 FOR K = 1 TO N - 1
230 FOR L = K + 1 TO N: IF ADJ(K) = ADJ(L) THEN ADJ(L) = 0
240 NEXT L: NEXT K: WORD = N    '--------------word = number of adjectives
250 FOR K = 1 TO N: LIN$ = LIN$ + A$(ADJ(K)) + " ": NEXT K
260 N = INT(RND * NN) + 1: FINAL$ = DOT$ + LIN$ + N$(N) + "!" + DOT$
261 NOUN = N   '---------------------------------------noun = selected noun
270 FOR K = 1 TO (LEN(FINAL$) - 40): L = K + 40
271 GOSUB 20000:
280 LOCATE 24, 1: PRINT MID$(FINAL$, K, 40);
290  VOWEL$ = MID$(FINAL$, K + 20, 1)
291  NEX$ = MID$(FINAL$, K + 21, 1)  '-------------------- signals word end
292 IF (VOWEL$ = "E" OR VOWEL$ = "A" OR VOWEL$ = "U" OR VOWEL$ = "O" OR VOWEL$ = "I") THEN GOSUB 350
293  IF (NEX$ = " " OR NEX$ = "!") THEN GOSUB 350
296  IF NEX$ = " " THEN WHICH = WHICH + 1: GOSUB 2000
297  IF NEX$ = "!" THEN WHICH = 0: GOSUB 2000
310  IF VOWEL$ = "!" THEN GOSUB 330
320 NEXT K: GOTO 180: END
330 MNEXT = INT(RND * 2 + 1): IF MNEXT = M THEN GOTO 330
340 GOTO 360
350 MNEXT = INT(RND * 5 + 3): IF MNEXT = M THEN GOTO 350
360 IF M = 1 THEN C = 0: GOSUB 580
370 IF M = 2 THEN C = 0: GOSUB 650
380 IF M = 3 THEN C = 0: GOSUB 720
390 IF M = 4 THEN C = 0: GOSUB 1050
400 IF M = 5 THEN C = 0: GOSUB 1120
410 IF M = 6 THEN C = 0: GOSUB 1190
420 IF M = 7 THEN C = 0: GOSUB 1260
430 IF MNEXT = 1 THEN C = 15: GOSUB 580
440 IF MNEXT = 2 THEN C = 15: GOSUB 650
450 IF MNEXT = 3 THEN C = 15: GOSUB 720
460 IF MNEXT = 4 THEN C = 15: GOSUB 1050
470 IF MNEXT = 5 THEN C = 15: GOSUB 1120
480 IF MNEXT = 6 THEN C = 15: GOSUB 1190
490 IF MNEXT = 7 THEN C = 15: GOSUB 1260
500 M = MNEXT: RETURN
510 LOCATE 24, 10: PRINT "reading nouns       ";
520 OPEN "i", 1, "NOUNS.TXT": N = 0
530 WHILE EOF(1) = 0: N = N + 1: INPUT #1, N$(N): WEND: NN = N: CLOSE 1
540 LOCATE 24, 10: PRINT "reading adjectives  ";
550 OPEN "i", 1, "ADJECTIV.TXT": N = 0
560 WHILE EOF(1) = 0: N = N + 1: INPUT #1, A$(N): WEND: AA = N: CLOSE 1
570 RETURN
580 '----------------------------------------------subprogram "MOUTH.BAS
590 START = 1: FOR J = 1 TO 2 * MO1(0) STEP 2
600 X = INT(35 * MO1(J)): Y = 200 - INT(25 * MO1(J + 1))
610 IF X > 999 THEN START = 1: GOTO 640
620 IF START = 0 THEN LINE -(X, Y), C
630 IF START = 1 THEN PSET (X, Y): START = 0
640 NEXT J: RETURN
650 '--------------------------------------------- subroutine "teeth.bas
660 START = 1: FOR J = 1 TO 2 * MO2(0) STEP 2
670 X = INT(35 * MO2(J)): Y = 200 - INT(25 * MO2(J + 1))
680 IF X > 999 THEN START = 1: GOTO 710
690 IF START = 0 THEN LINE -(X, Y), C
700 IF START = 1 THEN PSET (X, Y): START = 0
710 NEXT J: RETURN
720 '--------------------------------------------------subroutine big.bas
730 START = 1: FOR J = 1 TO 2 * MO3(0) STEP 2
740 X = INT(35 * MO3(J)): Y = 200 - INT(25 * MO3(J + 1))
750 IF X > 999 THEN START = 1: GOTO 780
760 IF START = 0 THEN LINE -(X, Y), C
770 IF START = 1 THEN PSET (X, Y): START = 0
780 NEXT J: RETURN
790 '--------------------------PROGRAM TO READ IN THREE MOUTHS "MOUTH.BAS
800 OPEN "MO1.DAT" FOR INPUT AS 1: INPUT #1, MO1(0)
810 FOR K = 1 TO 2 * MO1(0): INPUT #1, MO1(K): NEXT K: CLOSE 1: C = 15: GOSUB 580
820 OPEN "MO2.DAT" FOR INPUT AS 1: INPUT #1, MO2(0)
830 FOR K = 1 TO 2 * MO2(0): INPUT #1, MO2(K): NEXT K: CLOSE 1
840 OPEN "MO3.DAT" FOR INPUT AS 1: INPUT #1, MO3(0)
850 FOR K = 1 TO 2 * MO3(0): INPUT #1, MO3(K): NEXT K: CLOSE 1
860 OPEN "MO6.DAT" FOR INPUT AS 1: INPUT #1, MO6(0)
870 FOR K = 1 TO 2 * MO6(0): INPUT #1, MO6(K): NEXT K: CLOSE 1
880 OPEN "MO7.DAT" FOR INPUT AS 1: INPUT #1, MO7(0)
890 FOR K = 1 TO 2 * MO7(0): INPUT #1, MO7(K): NEXT K: CLOSE 1
900 OPEN "MO8.DAT" FOR INPUT AS 1: INPUT #1, MO8(0)
910 FOR K = 1 TO 2 * MO8(0): INPUT #1, MO8(K): NEXT K: CLOSE 1
920 OPEN "MO9.DAT" FOR INPUT AS 1: INPUT #1, MO9(0)
930 FOR K = 1 TO 2 * MO9(0): INPUT #1, MO9(K): NEXT K: CLOSE 1
940 M = 1: RETURN
950 '
960 '---------------------------------PROGRAM TO MAKE blank FACE "FAzE.BAS
970 OPEN "MINFACE2.DAT" FOR INPUT AS 1
980 START = 1: INPUT #1, L: FOR N = 1 TO L: INPUT #1, X, Y
990 IF X > 9999 THEN START = 1: GOTO 1030
1000 X = INT(35 * X): Y = 200 - INT(25 * Y)
1010 IF START = 0 THEN LINE -(X, Y)
1020 IF START = 1 THEN PSET (X, Y): START = 0
1030 NEXT N: CLOSE 1
1040 RETURN
1050 '------------------------------------------------subprogram "SLANT
1060 START = 1: FOR J = 1 TO 2 * MO6(0) STEP 2
1070 X = INT(35 * MO6(J)): Y = 200 - INT(25 * MO6(J + 1))
1080 IF X > 999 THEN START = 1: GOTO 1110
1090 IF START = 0 THEN LINE -(X, Y), C
1100 IF START = 1 THEN PSET (X, Y): START = 0
1110 NEXT J: RETURN
1120 '--------------------------------------------------subprogram "TOOTH
1130 START = 1: FOR J = 1 TO 2 * MO7(0) STEP 2
1140 X = INT(35 * MO7(J)): Y = 200 - INT(25 * MO7(J + 1))
1150 IF X > 999 THEN START = 1: GOTO 1180
1160 IF START = 0 THEN LINE -(X, Y), C
1170 IF START = 1 THEN PSET (X, Y): START = 0
1180 NEXT J: RETURN
1190 '--------------------------------------------------subprogram "SNARL
1200 START = 1: FOR J = 1 TO 2 * MO8(0) STEP 2
1210 X = INT(35 * MO8(J)): Y = 200 - INT(25 * MO8(J + 1))
1220 IF X > 999 THEN START = 1: GOTO 1250
1230 IF START = 0 THEN LINE -(X, Y), C
1240 IF START = 1 THEN PSET (X, Y): START = 0
1250 NEXT J: RETURN
1260 '---------------------------------------------------subprogram "LEFT
1270 START = 1: FOR J = 1 TO 2 * MO9(0) STEP 2
1280 X = INT(35 * MO9(J)): Y = 200 - INT(25 * MO9(J + 1))
1290 IF X > 999 THEN START = 1: GOTO 1320
1300 IF START = 0 THEN LINE -(X, Y), C
1310 IF START = 1 THEN PSET (X, Y): START = 0
1320 NEXT J: RETURN

2000 '---------------------------------------starts words sent to com port
2002 IF WHICH = 1 THEN PRINT #3, "YOU"
2004 IF WHICH > 1 THEN PRINT #3, A$(ADJ(WHICH - 1))
2006 IF WHICH = 0 THEN PRINT #3, N$(N)
2012 RETURN

20000 '-------------------------------------------------------TIME DELAY
20910 DT! = 60 '---------------------this many milliseconds
20920 DV! = DT! * 18.2 / 1000
20930 DEF SEG = &H40
20940 WHILE DV! > 0
20950    A! = O
20960    FOR ID = O TO 3
20970    A! = A! * 256 + PEEK(&H6F - ID)
20980    NEXT ID
20990    IF A! <> AOLD! THEN DV! = DV! - 1: AOLD! = A!
20991 WEND
20992 DEF SEG : RETURN


List of Nouns
ABERRATION ABOMINATION ABSURDITY ADDICT ADOLESCENT ALCOHOLIC ALIEN AMPHIBIAN ANIMAL ANTERIOR ASS ASSHOLE ATROCITY BABOON BAG OF SHIT BASTARD BEAST BEDBUG BEGGAR BERSERKER BIGAMIST BIGOT BITCH BLOCKHEAD BLOW HOLE BONE HEAD BORE BRAGGART BRIGAND BUFFOON BULLSHITTER BUM BUMFUCK BUSYBODY BUTT CAD CADAVER CARBUNCLE CARNIVORE CARRION CESSPOOL CHARLATAN CHAUVINIST CHIGGER CHUCKHOLE CLAPTRAP COCKROACH COCKSUCKER COMMUNIST COMPOST HEAP CONVICT CORPSE COWARD CRAB CREEP CRIPPLE CROCK CROOK CRUMB CUR CURMUDGEON CYST DEADHEAD DEGENERATE DELINQUENT DEMAGOGUE DEMON DERELICT DERRIERE DESPOT DEVIANT DEVIL DICK DINGBAT DINGDONG DISASTER DOG DOG DOPE DORK DRIP DRIVEL DRUB DRUNK DULLARD DUMBBELL DUMMY DUNDERHEAD DUNG HILL DUPE EGOTIST EXCRETION EXPECTORANT EXTREMIST FAKE FART FASCIST FELON FOOL FOSSIL FREAK FRUITCAKE GARBAGE PILE GEEK GELDING GIMP GLUTTON GNOME GRUB HAG HEATHEN HOODLUM HOOLIGAN IDIOT IGNORAMUS IMBECILE IMPOSTER INFIDEL INGRATE INSECT JACK ASS JELLY FISH JERK JUVENILE LARVA LEECH LEFTIST LIBERTINE LOAFER LOSER LOUSE LOUT LUNATIC MADMAN MAGGOT MANIAC MANURE HEAP MASOCHIST MEAT HEAD MEGALOMANIAC MENIAL MICROBE MIDGET MILQUETOAST MISANTHROPE MISCARRIAGE MISCREANT MISER MISFIT MISHAP MISOGAMIST MOLLY CODDLE MONGREL MONKEY MONSTER MORON MOTHERFUCKER MUTATION NARCOTIC NEANDERTHAL NINNY NOBODY NUMSKULL OFFAL OGRE OPPORTUNIST ORIFICE OX PAGAN PAN HANDLER PARASITE PARIAH PEASANT PEDANT PEON PERVERT PEST PEST HOLE PHLEGM PIG PIGSTY PILE OF DUNG PILE PIN HEAD PIRANHA PLEBEIAN PORKER POSER POSTERIOR PUTZ QUACK QUISLING RADICAL RAT REACTIONARY RELIC REPROBATE REPTILE RETARD RETROGRADE RODENT SAP SCOUNDREL SHITHEAD SIMIAN SLACKER SNAKE SNOB SON OF A BITCH STUB SUCK UP TROGLODYTE TURKEY VERMIN VIRUS WINDBAG WORM WORMHOLE ZERO
List of adjectives
ABERRANT ABHORRENT ABNORMAL ABOMINABLE ABRASIVE ABSURD ABUSIVE ACCURSED ACRIMONIOUS ADDICTED ADDLE BRAINED ADOLESCENT ADULTERANT AFFECTED AFFLICTED AGGRANDIZING AGGRAVATING ALCOHOLIC ALIEN ALL IMPORTANT AMORAL ANACHRONISTIC ANAL RETENTIVE ANAL ANNOYING ANOMALOUS APATHETIC ARGUMENTATIVE ARROGANT ARTLESS ASININE ATROCIOUS AVARICIOUS AWFUL BABBLING BACKBITING BACKWARD BAD BALD HEADED BANDY LEGGED BANKRUPT BARBARIC BEASTLY BEDRAGGLED BEFUDDLED BEGRIMED BELLIGERENT BESOTTED BESTIAL BIASSED BICKERING BITCHY BLACK HEARTED BLASPHEMOUS BLEARY EYED BLIGHTED BLOATED BLOODY BOMBASTIC BOONDOGGLING BOSSY BOTHERSOME BOW LEGGED BRAGGING BRAIN WASHED BRAINLESS BROKEN DOWN BROWN NOSING BRUTISH BUCK TOOTHED BULBOUS BULL SHITTING BUMBLING BURNED OUT BUTT KISSING BUTT FUCKING CACOPHONOUS CALLOUS CANCEROUS CANTANKEROUS CARCINOGENIC CARELESS CARNIVOROUS CASTIGATING CASTRATING CATATONIC CHAUVINISTIC CHEAP CHEEKY CHICKEN HEARTED CHISELING CLAMMY CLOWNISH CLUMSY COARSE COCKY COLD BLOODED COLD HEARTED COMATOSE COMBATIVE COMMANDEERING COMMON COMPLACENT COMPLAINING COMPULSIVE CONCEITED CONDESCENDING CONFUSED CONGENITAL CONNIVING CONSTIPATED CONSUMPTIVE CONTAGIOUS CONTAMINATED CONTEMPTIBLE CONTORTED CONTRIVING CORPULENT CORRODED CORRUPT COWARDLY CRABBY CRACKED CRANKY CRAPPY CRASS CRAZY CREEPY CRITICAL CROTCHETY CRUDE CRUMMY CURSED DAMN DAMNED DASTARDLY DEBASED DEBILITATED DECADENT DECAYED DECEITFUL DECEIVING DECEPTIVE DECREPIT DEFECATING DEFIANT DEFICIENT DEFILED DEFORMED DEFRAUDING DEFUNCT DEGENERATIVE DEGRADED DELUDED DEMENTED DENATURED DEPLETED DEPRAVED DEPRECATING DEPRIVED DERANGED DESECRATING DESPISED DESPOTIC DESTITUTE DESTRUCTIVE DETERIORATED DETESTABLE DEVIANT DEVILISH DIABOLICAL DICKERING DIFFICULT DILAPIDATED DIM WITTED DIRTY DISAGREEABLE DISASTROUS DISCORDANT DISCOURTEOUS DISDAINFUL DISGRACEFUL DISGUSTING DISHEVELED DISHONEST DISLOYAL DISMAL DISORDERLY DISREPUTABLE DISRUPTIVE DISTASTEFUL DISTORTED DISTURBED DREADFUL DREARY DRIVELING DULL DUMB DUPLICITOUS ECCENTRIC EFFETE EGOCENTRIC EMACIATED EMASCULATED EMBEZZLING EMPTY HEADED EMPTY ENRAGING ERRANT ERRATIC EVASIVE EVIL MINDED EXASPERATING FACETIOUS FACTITIOUS FAKE FAKING FALSE FALSE HEARTED FARTING FASCIST FAT FATUOUS FEATHER WEIGHT FECAL FEEBLE MINDED FESTERING FETID FICKLE FIENDISH FILTHY FLACCID FLAKY FLAT FOOTED FLATULENT FLEA BITTEN FLIPPANT FLY BY NIGHT FOGGY FORK TONGUED FORNICATING FRIGID FRITTERING FRIVOLOUS FROWZY FUCKING GANGRENOUS GARRULOUS GAS BAG GAUDY GELATINOUS GELDED GENERIC GHASTLY GHOULISH GLIB GLUTTONOUS GNARLED GRIMY GRIPING GROTESQUE GROUCHY GRUBBY GRUESOME GRUMBLING HACKNEYED HAGGARD HALF BAKED HALF WITTED HAPLESS HARANGUING HARE BRAINED HEARTLESS HEDONISTIC HEINOUS HEMORRHOIDAL HIDEOUS HISTRIONIC HOARY HOGGISH HOMICIDAL HOPELESS HORNY HORRIBLE HORRID HOSTILE HYPOCRITICAL HYSTERICAL IDIOTIC IGNOBLE IGNORANT ILL NATURED ILL BRED ILL TEMPERED ILLEGITIMATE ILLITERATE IMBECILIC IMMODERATE IMMODEST IMMORAL IMPAIRED IMPATIENT IMPERSONAL IMPERTINENT IMPIOUS IMPOLITE IMPOTENT IMPROPER IMPUDENT INADEQUATE INANE INBRED INCESTUOUS INCOHERENT INCOMPETENT INCONGRUOUS INCONSIDERATE INCORRIGIBLE INDECENT INDELICATE INDIFFERENT INDISCREET INDOLENT INEBRIATED INEPT INFANTILE INFERIOR INHUMAN INSANE INSENSITIVE INSIDIOUS INSIGNIFICANT INSINCERE INSIPID INSOLENT INSUFFERABLE INTEMPERATE INTOLERANT INTOXICATED INVALID IRASCIBLE IRRATIONAL IRRELEVANT IRRESPONSIBLE IRREVERENT IRRITATING JABBERING JAUNDICED JOYLESS KNAVISH KNOW IT ALL LACKADAISICAL LAME LARCENOUS LASCIVIOUS LAUGHABLE LAZY LECHEROUS LETHARGIC LEWD LIBELING LICENTIOUS LIFELESS LIMPID LISTLESS LOATHED LOGGER HEADED LOOSE TONGUED LOW BRED LOWBROW LUCKLESS LYING LYING MACABRE MALADJUSTED MALCONTENT MALEVOLENT MALFORMED MALFUNCTIONING MALICIOUS MALIGNANT MALIGNING MALINGERER MANGLED MANGY MANIACAL MANIC MANIPULATIVE MARGINAL MASTURBATING MEALY MOUTHED MEAN MEDDLING MEDIOCRE MENTAL MESSY MILDEWED MINDLESS MISANTHROPIC MISBEGOTTEN MISERABLE MISERLY MISSHAPEN MISTAKEN MIXED UP MOLDY MOLESTING MONEY GRUBBING MONOMANIACAL MONOTONOUS MORALISTIC MORALIZING MORBID MORONIC MOTH EATEN MOTHERFUCKING MOTLEY MOUSY MUCKRAKING MUMBLING MUSTY MUTANT MYOPIC NAIVE NARCISSISTIC NASTY NAUSEATING NEEDY NEFARIOUS NEOLITHIC NEUROTIC NIGGARDLY NIHILISTIC NIT PICKING NOISY NONDESCRIPT NONSENSICAL OBDwATE OBESE OBJECTIONABLE OBLIQUE OBNOXIOUS OBSCENE OBSESSIVE OBSOLETE OBSTINATE OBSTRUCTIONIST OBTRUSIVE OBTUSE ODD ODIOUS ODOROUS OFFENSIVE OFFICIOUS OLD ONEROUS OPINIONATED OPPRESSIVE OSTENTATIOUS OUT OF DATE OUTDATED OUTLANDISH OUTRAGEOUS OVER SIZED OVER WEIGHT OVER AGED OVERSIZED PALTRY PARALYTIC PARANOID PARSIMONIOUS PASSIVE PASTY PATHETIC PATHOLOGICAL PECULIAR PEDANTIC PEDESTRIAN PERFIDIOUS PERJURING PERNICIOUS PERVERSE PESTILENT PESTILENT PETRIFIED PETTY PHARISAIC PHILISTINE PHLEGMATIC PHOBIC PHONY PIDDLING PIG HEADED PIGEON TOED PIGGISH PITEOUS PLAGUED PLODDING POCK MARKED POINTLESS POISONOUS POLLUTED POLYGAMOUS POMPOUS PORNOGRAPHIC POSSESSED POSTURING POT BELLIED PRATTLING PREDATORY PREJUDICED PREPOSTEROUS PRESUMPTIVE PRETENTIOUS PREVARICATING PRIGGISH PRIMITIVE PRODIGAL PROFANE PROFITEERING PROMISCUOUS PROTRUSIVE PRUDISH PUDGY PUERILE PUGNACIOUS PUNY PURITANICAL PUSTULANT PUTREFIED PUTRID QUIRKY QUIXOTIC RABID RAG PICKING RANCID RANCOROUS RATTLE BRAINED RECALCITRANT REEKING REGRESSIVE REPELLENT REPREHENSIBLE REPUGNANT REPULSIVE RETARDED REVOLTING REVULSIVE RICKETY RIDICULOUS RIGHTEOUS ROTTEN RUDE SADISTIC SARCASTIC SATANIC SAVAGE SCATTER BRAINED SCHIZOID SCRAGGLY SCUMMY SCURRILOUS SEAMY SEDITIOUS SEEDY SENILE SEPTIC SERVILE SHABBY SHAGGY SHALLOW SHAMELESS SHAPELESS SHIFTLESS SHIRKING SHIT EATING SHODDY SICKLY SILLY SIMPLE MINDED SKIMPY SKINNY SLANDEROUS SLEAZY SLIMY SLIPSHOD SLOBBERING SLOPPY SLOVENLY SLOW WITTED SMELLY SOGGY SOLICITOUS SOPHOMORIC SOULLESS SPITEFUL SPOILED SPURIOUS STERILE STILLBORN STINGY STINKING STODGY STRANGE STUBBORN STUFFY STUNNED STUPID SUBNORMAL SUBSTANDARD SUBVERSIVE SUICIDAL SUPERFICIAL SWINDLING SYPHILITIC TACITURN TACKY TACTLESS TASTELESS TATTERED TAWDRY TEMPERAMENTAL TEMPESTUOUS TENUOUS TERMINAL TERRORIST TESTY THICK WITTED THICK SKINNED THIEVING THIN SKINNED THIRD CLASS THOUGHTLESS THROWBACK TORPID TOUCHY TOXIC TRASHY TREASONOUS TRITE TRIVIAL TRUCULENT TWO FACED UGLY ULCEROUS UNBEARABLE UNDER FED UNINTELLIGIBLE UNMENTIONABLE UNPLEASANT UNPRINCIPLED UNSAVORY UNSPEAKABLE UNTOUCHABLE VACANT VACUOUS VAIN VAIN VENAL VENOMOUS VERBOSE VICIOUS VILLAINOUS VINDICTIVE VIRAL VIRULENT VULGAR WASTED WEAK MINDED WEARISOME WEIRD WHINING WORMY WORN OUT WORTHLESS WRETCHED
---
end