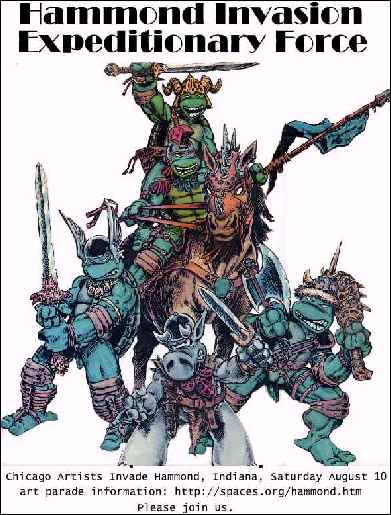 | | | |
| --- | --- | --- |
| Ninja Turtles, 79K | Steelworkers, 51K | Angry Bunny, 141K |
Images of the [parade] here.
2002 Invasion of Hammond Indiana
(updated Aug 12 2002) Chicago artists were invited by the City of Hammond, Indiana (a few minutes out of town) to invade Hammond and bring culture to the city.
This was held in conjunction with "Arts Inside Out," Hammond's 3-day Interactive Arts Festival. Artists from Chicago, Northern Indiana and farther points were to stage an old-fashioned do-it-yourself summer parade. The festival was August 9, 10, 11 and the parade was Saturday, the 10th.
All were encouraged to join, even if just to walk with us. Anyone could play. The bottom line was that your float, marching band, drill team or whatever, long-established or improvised for this event, would join the rest at the Hammond Marina, early Saturday morning, near the Chicago border/state line. We were to march, drive and ride past casinos and through neighborhoods into downtown Hammond for the noon opening of the second day of a big city arts fest.
The following was the text of the original offer:
We should have a rousing mobile circus. Participants include De Corps Costume Collective, a woodwind marching band, the steel workers union local and groups of kids from parks rec programs, as well as dozens of individual artists. There are plans for a race of artist-made vehicles, a pack of killer rabbits, a water-balloon finale and whatever wierdness you'd care to contribute.

The festival itself will be pretty crazy, too, with gallery art exhibits; jazz, hip-hop and dance performances; mural painting, the construction of sculptures to be auctioned off for the benefit of laid-off steel workers, poetry slams, and a giant jig-saw puzzle. There is a covered stage, with sound equipment, dedicated to performances by parade participants (and outdoor film showing on Saturday). Additionally, there are plans for an October exhibit of art/installations/performances featuring parade artists.




The route is five miles long, but no-one is expected to walk the whole distance. We will have support vehicles to jump in to speed past less interesting stretches and reform to entertain the early gamblers and people in the neighborhoods. There will be refreshment stations along the way. Alternatively, you could miss the beginning and join us at any point along the way, up to the final regrouping before we descend the bridge into the festival site.

As an incentive, parking at the Marina will easy, free and secure, and there is a group of volunteers to shuttle us back to our vehicles any time after the parade ends. Camping may be available if you want to stay until Sunday.

The parade is endorsed by the city and there is a lot of community and business support for us - if you need a vehicle to build a float on, we may be able to find one; if you want to participate, but don't have a group, we may be able to connect you with appropriate playmates. We can coordinate transportation for you and your gear to and from Chicago. There is no money involved - you don't "contribute" and no one pays you.
Official Contacts
Organized by Tom Torluemke and Linda Dorman, two independent curators of Hammond. Chicago contacts for questions, suggestions, and parade organization are Michael Bulka and Marty Garcia.
Un-Official Listserv
There was an unofficial Listserv of about 50 people. Closed now.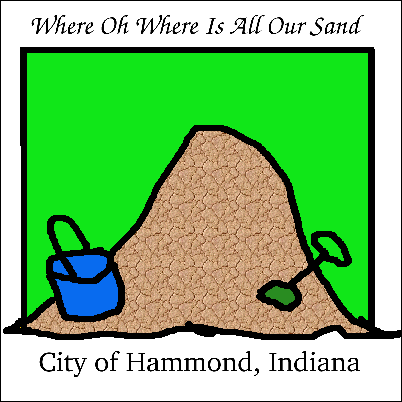 Web site links
Downtown Hammond has their own website at ..
[www.downtownhammond.org/]
Directly to the main page (restaurants, organizations, events, and maps), link to ..
[www.downtownhammond.org/hammond.htm]
Find some Very Large (TM) and less than readable maps here also, at..
[www.downtownhammond.org/map/DHCmap.gif] (106K) and ..
[www.downtownhammond.org/map/downtown_map.gif] (238K !!)
Details on the August 9, 10, 11 events are at ...
[www.downtownhammond.org/news_events/event_details.htm#august9]
---

Website Provider: Outflux.net, www.Outflux.net
URL:http://jnocook.net/hammond/index.htm
---