Nothing Burn (CD Single)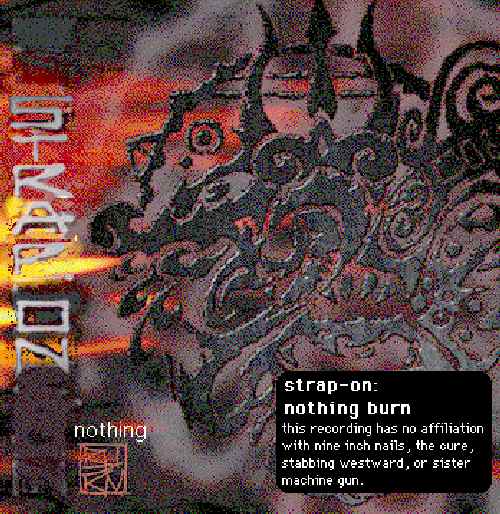 Track Listing
Nothing Burn (album version)
Nothing Burn (Nonexistent Flames Mix)
Search, Destroy, and Burn Nothing
Blasphemy
Carlos Offended Me
To download sound samples of "Nothing Burn" and "Blasphemy," click here.

"Nothing Burn" is the second single to be released from Strap-On's breakthrough debut, Antipsychotic. There has been much controversy surrounding its release, including lawsuits from Nine Inch Nails, the Cure, Stabbing Westward, and Sister Machine Gun, pointing out its obvious theft of ideas, tunes, and sometimes lyrics from their songs. For this reason, lyrics cannot be included, and the sound sample is very brief. Also, additional lawsuits have been filed by KMFDM, Front Line Assembly, and Metallica regarding the new track on the single, "Search, Destroy, and Burn Nothing," though Ed points out that Metallica's song was called "Seek and Destroy."

The "Nonexistent Flames Remix" was Jourgensen's contribution to the disc (since he is currently the only official member of Strap-On), and basically features all of the middle C's from the song, along with a hi-hat (rumored to have been programmed by Aphex Twin).

The b-side "Carlos Offended Me" is the brainchild of touring bassist Angus McCarthy, and he did much of the work for the track; the first time Ed and Al have let the live band in on the studio process, aside from Branagan's guitar work on "Nothing Burn." Hopefully a sample of this song will be available soon.

"Blasphemy" is solely Ed's work, and in fact Al tried hard to keep it from being included on the single (no middle C's). However, production had already begun when he took over the band.

There is also some controversy about the cover art; people saying it's been ripped off from somewhere. I have no idea what they're talking about.