The Last Critique
Fiction, 25:00 minutes
The reactions of faculty and students are listed at the end of this script. For the rest, this is the script which I passed out during my last graduate critique in 1983, and asked the review panel to read out loud.

In slightly expanded form it was published in exposure magazine in 1984. In addition to expanding the text, David Jacobs had me change all the names. For the exposure issue I selected names (first names) from the list of "Masters of Photography" without concern for gender.

I am not the only one, or the first, to take note of the larger issues implied here. It has included some visiting critic at the School, who published his diary notes in Artforum (or some other art mag), and Chicago filmmaker Gordy Quin. And my favorite fellow student, Joan Bocinno, who had produced a list of collected "critique terms" two semesters previous, which included such gems as "the essence of chocolateness."

I put 17 photographic prints on the wall, 30x40 inch line drop-outs with areas selectively colored with Crayola liquid markers.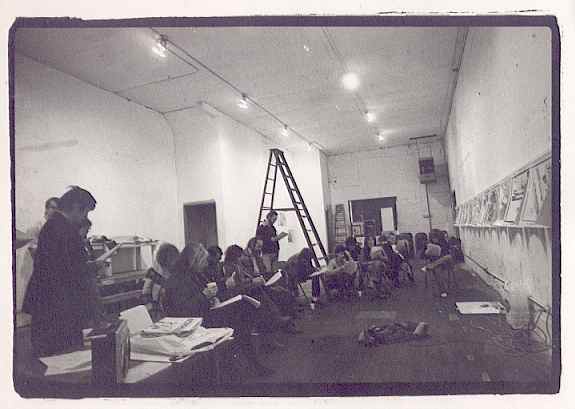 ---
Last Graduate Critique, Jno Cook
School of the Art Institute of Chicago
May 3, 1983, 10:45 am
held at Randolph Street Gallery

-- TRANSCRIPT --

(Chairperson Crane introduces Jno Cook, asks who his advisors are, how many credit-hours are involved.)

(12 hours; Barsotti, Huston.)

Crane:

Well, John, is there anything you want to say about this work? Can you tell us something about it? This is your last critique, is it not?

(A statement is declined; a prepared transcript of the critique is distributed.)

Endsley:

Well, I mean, about this work (he points to the wall), not this (the transcript), I haven't seen this yet, I think, well, it's pretty dumb, common I mean. I mean it's nice to see, the color and all that, but it's not new, pretty disappointing. After last semester, I mean, you look at this and you get it, and I feel that the images, I mean, some of the pictures I've seen before, they would hold up by themselves, you don't need the color. And inconsistent, also, the coloring.

Shorr:

I would just like to say, I agree with ... it's just dumb. And to see this work, I mean, we're back to snapshots, to see them redone in this form adds nothing, there is ... and it goes only to prove again that as images they don't stand up by themselves. I mean, I know, some are interesting, and some are cute ones, and there is a striking use of, you know, color, or distortion, or something, But we can't be satisfied with that, can we? What's the point of this manipulation? I mean, even as a statement of the utter middle class environment we all find ourselves in, it does nothing except to reiterate the fact that, you know, we're all pretty much middle class, It's just vapid, and artless, And, it's like, as art, just this cant. It begs, I mean, I don't agree with ... it's not just the color, I mean it's the presentation, when you see this in terms of the responsibility of the ... or, I suppose, seen in terms of the art world, it, I think, it becomes this nihilistic whining, meaningless and insincere, which in itself is now, I suppose, just habituated convention. But, so, I mean ... I just wanted to say that. (looking at the transcript) What is this?

Crane:

John? (addressed to Cook)

(An explanation of the transcript is made to Shorr.)

Crane:

Well, I don't know about you, but for me some of these are starting to work, it's not the images, although some of them are interesting, and I think it needs a lot more work, this is obviously just a start, I'd be willing to look at it again in about two years. But some of them work, in a way, although some others are just jarring, although, you know, it's his choice to be jarring, and even at that they are interesting.

Shorr:

But Barbara (addressed to Crane), it's a question of sincerity. Where does all this work come from? It's this off-the-wall suddenness that is bothersome, I mean, I've never seen any of this before, and I think in that it reflects a total lack of content, or, on the other hand this mild ... this just touching content here, and there, but never with any intensity ... it's that ... it's the reduction to a color pastiche, like embroidery ... In fact, I think that best represents it, just an embroidery on images that are at any rate pretty commonplace and basically uninteresting. Do you ... I ... That's all. I just ...

Barsotti:

What bothers me is that John just refuses to settle down. It's been, you know, how many semesters nov? And he is still not settled down to a single form, or the exploration of a single issue. I can see humour in the work, that's one thing it has in common, but I think that's John's humour, and I'm willing to bet a lot of these (pointing at the wall) are personal jokes, things we will never understand, But that's all-right, he should be allowed to do that. And the images, too, I see a continuity certainly to other work of his I've seen. But it is the form. Not just the changes every semester, but there seems to be no relationship between what we have been seeing each time. And there is always these words, I mean, here we are again, here we are with another document in our hands.

Sweetman:

I think, perhaps, that we should not neglect that very aspect of this presentation. After all, here we are, engaged in a wide-ranging dialogue, afloat on talk, but with the very script of this critique in hand.

Endsley:

But that's a joke ...

Weiss:

Not just a joke, I mean, I think it is, but I think we are at the butt end of it, and in a way I find it insulting, I mean, not just to have this stuff foisted on us, that's one thing, but there's not even an attempt at doing art, producing art, that is, and for another thing, except that they're pretty colorful, I think it's more like an exercise in graphics, and I would want to ask, where is the photography? And, what I mean is, where are the decisions about images? I mean, is this what you want to do? That's what I would like to know, is, just what were the decisions that were made? After last semester I would expect John to settle down to some serious play, but I don't think he's been pinned down on that, I don't know what this is, how it relates.

Huston:

I agree, I mean it's just not funky enough if it's about presentation, it fails because that process, the sabbatier, or whatever it is, it just doesn't go beyond that, but I know, cause I've been told, and I don't know if it's fair to let this out, but it's about not doing content, but then it should deal with presentation, but the consistent size and that graphic-arts process take it back, I mean, reduce it again to being about that. I would have liked to see this (points at transcript), seen this used as a script, and everyone just read their part from it, and leave no time for discussion. I think that says something, or would have said something.

Shorr:

Well, yes, if that's what it's about, the political atmosphere, and the power relationships in ... and the general depravity of graduate school, but on the other ... but also, you see, I think, then having work up ... but then only in having this script ... it's sort of like the work of that neoexpressionist performance artist ... or like the concept of a play within a play, but you see, in not being able to read it you're dealing again with the clammy boredom of critiques ... the endless ... Well, I don't know, you know, there's the potential of realizing the type of work that alludes to the contextual ambiguity of ... like Brown's writings, or that book by Barth. I'm not much for that sort of, you know, cooled-out rhetoric, it just brings it all down to that quasi-scientific approach of, you know, let's look at what we have at the base level of things, it's ... it's sort of an ontological relativism that just totally fails in looking at ... a hermaneutic retreat, and ... and what I really wanted to say, is, that if, you know, if that was the purpose it would have been better accomplished, it seems to me, by just blank paper on the wall ...

Sweetman:

Well, that's what we have here, but it's us as the table rasa, we are the blank paper upon which this critique is being written. Perhaps we should check with the transcript. Perhaps we have there an exact record of what is here presently shifting into the past before our eyes and ears. It might suggest that all critiques are equivalent and interchangeable.

Shorr:

But Alex (addressed to Sweetman), that just isn't true, I mean, not about what you said, but being handed a document which can't be read, it's like dealing with things that aren't here. I mean, I think, that's the point of it? Why the obtuseness, why provide a prop that can't be used? And, you see, there is absolutely no hint of that as intent in these pictures ... I ... where is the least suggestion of any relationship between these and this? I just don't think ... Oh well ...

Sweetman:

Precisely, Kenny.

Huston:

That's what I meant, if we would have been able to read it, but all we have really is ... this.

Endsley:

Right. I think that's just dumb, if, you know, this were a performance, if, you know, we were to read this outloud, then we should have been told, it should have been made clear, but it wasn't, and we should concentrate on the images, rather than discuss a transcript which, you know, is for all practical purposes non-existent.

Crane:

Well, I for one would like to return to the images, I think if words were that important they should have been incorporated in the images, but they are not here.

Neimanas:

In a way this work reminds me of an L.A. artist, he's ... he showed work once that was very similar to this, and it was about the facility some of us have with photographic images, I mean creating them, it takes you to another place, once you realize that, and I see this work in similar terms, it is also about that self-imposed creative boredom, where one changes the rules, the rules of applying color, here, in an effort to break through, to come to some point beyond tradition, where new things are happening, sort of.

Crane:

Are these to be seen in a certain order? (addressed to Cook) Is that why they are marked first, second, and so on?

Cook:

No.

Neimanas:

As I understand it -- right? -- they were done in this order, but that has nothing to do with seeing them in the same order, it only established a rule for going from one to the next.

Endsley:

But what is the rule, you know? I don't see it. How, for that matter, do you select the next one?

Neimanas:

Well, I don't know either, but I think it doesn't matter, it's the results that happen that count, and they don't always happen, but look here ... (points out certain work).

Endsley:

Yes. Well. Of course this is his last semester, and, of course, we are going easy on him, you know, but if this work would have been shown earlier ... I mean it just doesn't stand up as being about nothing. If it's about nothing it's about something, and not really interesting, I mean, you know, I've seen much more exciting things done by him, in the past I mean, and the point is, if it isn't about content, then it's about form, and that is its content, another point, you know, that it fails on.

Barsotti:

I think what bothers me most is the implication that John doesn't, can't, take art seriously. Each semester now the work has been about John, about what he thinks, I think, but has not been directed outward. I think John's come to an end, that this is about getting stuck, and the work, the marks, are just about attempting to make art in the face of ... as a reaction to the faculty. Maybe about being in art school. And what is he going to do for art after he's out of school?

Crane:

Is it? There's something to be said, though, for just keeping going. I mean, I know, we all come to these points there you just have to force yourself to continue.

Endsley:

I think if it's that, then his children should have filled in the colors, you know, to really look like scrawls ...

Sweetman:

Maybe they did.

Endsley:

... but they're too tentative, too unsure to pass, you know, for that. There's no depth to them, inconsistent, nothing really breaks with tradition ...

Crane:

Are you satisfied with this work? (addressed to Cook) Which do you think are most successful? Have you looked at Ittens, or Albers?

Endsley:

Maybe we should ask, Did he ever take a color course? Fundamentals, I mean.

Barsotti:

But does he really need to? Granted that they are about coloring, I think the inconsistent formal concerns are more like a spoof of formalism ...

Sweetman:

Post rationalism?

Barsotti:

... No, not like that. In a way I see John's work more as just being primitive, in the style, sort of, of the primitive, but the problem as I see it is not in the work per se, but in the attitude, John's concern with telling us something about how he thinks, and you have to ask, what is the pressing need for that? (addressed to Cook:) Why didn't you do a slide show? But this, here, it's so elusive, that, you know, I don't get it ...

Sweetman:

Relative to that comment, there is something Berger mentions, namely that the unwillingness of the primitive to compromise his style, even in the face of a full awareness of the style of the Academy, is lodged in the conviction rising out of a lived reality which has already set him apart from the mainstream of society. Additionally, and to expand on something that was mentioned earlier, we could ask, how do you break with tradition when the sum total of the last fifty years has been a continuous series of breaks with tradition? Might it not suggest at this point in time that in order to break with tradition now one simply remains within it? As an example we could point to much of the work coming out of L.A. currently, which is precisely about that, that is, it is about looking as if it is about something, whereas it turns out not to be about what it looks to be about. But, that's not what we have here. What we have here, if our gauging of the intent has been correct, is an attempt to embody nothingness with ... with what? How do you enclose emptiness, emptyness, that is, in terms of the banality of this work, except, at the extreme, to use the presentation as a form for the whole?

Shorr:

But Alex ...

Weiss:

I think, I know John, I think that just in terms of the images, however, it's about the city, the landscape, about friends and family. For one thing, I'm not at all impressed with this so-called script, and if it really were part of this work, he's smart enough to have pointed this out, and for another thing, I think it's just disruptive, I think it says, if it says anything, that John doesn't rant another critique. That's what I think.

Endsley:

Well, I know, we all know that, it's always about his family, you know.

Huston:

I think we ought to read from the script, I wanted to walk out, I mean I requested it.

Sweetman:

You said it.

Shorr:

Said that?

Endsley:

I think the script, though, has nothing to do with this work, you know. I only see it as a cover for the failure in producing, you know, anything of note.

Crane:

I would like to put this transcript aside and just go to a discussion of the work, including this transcript we've been reading from, it's getting a little boring, you know, and I think it's useless to go on. Is that agreeable to you? (addressed to Cook)

Cook:

O.K.

Shorr:

Yes, it does seem sort of silly for us to be reading a script which deals with not reading it, it is sort of ... I don't really see the point of it, you know. I think it is sort of wasting my time, all our time, and I can't say I agree with what I'm supposed to have said, either, I think, in fact, that the characterization was a little overdone, that, you know, it was a little too cliquish, there's a certain smugness that comes through, it's that, you know, sort of, like we are the photo audience, and isn't it cute how well I know all these professors and their insipid remarks, and look how predictable they are. I think that, you know, this might have been much more effective if it were the sort of general comments, sort of tossed together, maybe on 3x5 cards, and we would just pick a card and read from it, and then look stupid, and then everyone could have a good laugh, and you know, well, that's all.

Endsley:

I agree, you know, as a critique of critiques it's sort of low-key, not very effective, it just doesn't get the issues across, and, you know, I really objected to how many times you had me say "you know."

Weiss:

And there's people here that never got to say anything, from Art History, if I have that correct, and Ceramics, that's one thing, and for them this is got to be like watching an in-joke from the outside, and I don't think that's fair, I mean, if this is got to be for a general audience, I mean, if it is like a performance, you know, they don't get anything out of it, that's another thing. And I don't really agree with what I said, you know, I don't even say that much at critiques.

Barsotti:

Well, John and I talked about this, and that point came up, about satire, and I feel that he ought to be able to extend it beyond the faculty, to a broader audience. I also disagree with the words he put in my mouth, I don't think I really view his work in that light, although I agree with some of it, I mean, there is a real problem of what John is going to do when he no longer has us as an audience. And I think it's just meaningless to have a dialogue for people who aren't even here, like Sweetman, for one.

Sweetman:

Well, going back a little bit, first of all, it's not satire, and secondly, I think the point of effectiveness is not at issue here. Maybe wasting time, but that's another issue altogether. I think what is at issue here, and I faintly recall having said something like this in the script, or maybe someone else said it, is the question of what all these words have to do with those images. That is what I think needs to be addressed, because that is what I see as the failure in this work.

Neimanas:

I think it is speculative, they're both speculative I mean, both experimental, and that's what ties them together. It may in fact be about the fact that they don't go together.

Crane:

Well, I for one don't see that. I mean, all these words just leave me cold, it's confusing, it detracts from the images. You know, if all his work is supposed to be about his family, where does this script fit in?

Neimanas:

I think it may be that we are the audience, which, in a way, is limiting, and that the manipulation of us as an audience is the goal, in a way.

Crane:

Well, there's nothing wrong with that. Just because we usually assume a gallery audience, you know. A professional artist career. But I suppose when you're in school you do work for your teachers. You could look at it that way.

Weiss:

Maybe the script is about just sitting in the kitchen, writing this script and grinning ...

Shorr:

Yes, that's ... I'd just like to say, that's such a compulsive image, like a self-obsessed Vasari, you know, the third-rate artist writing about himself and taking it all so seriously. But, you know, I think: it's not like that, unless, of course, you think of it like that.

Sweetman:

What?

Shorr:

Well, you know, imagine the ... but I don't think it really comes through, and I think perhaps it should, but it makes you think of the artist as this self-centered fool, complacently blind to his own ineffectiveness, but overawed by this feeling of unique creativity, and then our reading from this script becomes, you know, sort of the thing you put on everyone else, or the ... or how you see the over-aged matrons picking away at their paintings on Saturdays at the School, and sort of like you see them and you say to yourself, just let them be, let them fool themselves, and anyway, they're happy in their struggle ... for expression, and they'll work it all out, and a lot of students too, you say, why nip them in the bud with intimidation, just let them all be irrelevant, there's no room for genius anymore anyway. And, but I think, you know, it's all so slippery that, that if this script continues any further it's suggesting, sort of begging, for that treatment, and Mr. Cook, you know, wasting our time, and insulting us, we should just cut it short, walk out. The whole point of this script, carrying on with it any more, is just this histrionic argument against critiques, and you know, I get it, you see ... that's all, that's all I wanted to say.

Sweetman:

Oh.

Weiss:

I think you just have to make a decision.

Endsley:

I think we should stop here.

Neimanas:

No, not yet, What I wanted to say before was, when I mentioned that it was experimental, which I think it is, is that if it is experimental it is also inconclusive, it's ... you don't know what is going to happen when you start something like this, you don't know where it is going to end up, and maybe nothing will come of it, and maybe something will.

Endsley:

Well, what bothers me, you know, is that this just isn't, you know, genuine, that this script is just trying to, you know, to cover all the bases, and to suggest more than there is. I mean, the fact is, we're not talking about the work, the images, you know. I think we should stop here.

Crane:

Okay, let's stop here and discuss this. (Pointing to the images) Anyone? Has anyone seen this before?

Endsley:

Well, I think, you know, it was just too much, too extended I mean, and what was difficult, you know, was to try and follow what everyone else was saying, because, you know, you were always looking at that script to see where your own part was, so it's kind of like, you know, I don't know what was said by anyone else, I mean.

Huston:

But that happens at real, critiques too ...

Sweetman:

This isn't real?

Huston:

... that you spend all your time trying to think of what to say, and you just don't hear what everyone else is saying, And another thing that I noticed, was the total lack of helpful suggestions, I mean, no-one said, why don't you try this, or try that, or have you looked at it this way or that?

Sweetman:

Well, he never listens, you know, But, now that we are unleashed from this script, I would like to remark on the interesting analogue that this piece develops between author and artist. Let me clarify this. The spoofish quality of this script, which certainly questions the deadly seriousness with which we invest these proceedings, and which you also see in these images, is, I would hope, not offered with malice, or just to be contentious, but as a sort of interactive criticism, despite the acknowledged indirection and the almost open awareness of failure. Looking back over John's previous critiques, you will notice similar projects, all of which partook in a certain mild didacticism, and all of which, in a broad form, involved questions of epistemology.

Crane:

Is that it?

Sweetman:

That's what it says here.

Crane:

No, I mean, is that it? My script just ends here.

Barsotti:

Mine too.

Shorr:

Is it over?

Weiss:

Okay, is it over? Okay, I would like to ask, ask John, okay, so what is the purpose of this? Why this extended dialogue which leads nowhere, and just seems to try to cover all the possibilities. That's one thing, and God, I'm starting to sound like that script.
-- END OF TRANSCRIPT --
NOTE: None of the faculty and visiting artists depicted here were present when this script was read, except Frank Barsotti, who chose to read someone else's part. So none of these words were ever said by the persons presented here. They are, in fact, a fiction. I made them up, partially from known personalities, and partially from the differing teaching strategies that I had seen employed. No insult or injury is intended (a little needling, yes), and if the characterizations seem a little heavy at times or leave something be desired, so be it. I wrote this in a few hours, and I couldn't invest all with tact and eloquence. The question, after all, is not about content, but about presentation. /Jno
---
reactions
The various parts (above) were read by the following: Crane by Pinkle; Endsley by Steger; Shorr by Barsotti; Sweetman by Lesey; Weiss by Fridstein; Niemanas by Zielinski; Huston by Daniels.

When I left the critique, I went with my prints under arm to Columbia to take over a Photo II Lab. By the time I got back to the Tute, copies of the handout were being xeroxed and distributed. Barbara Crane was seen sitting in the cafeteria, reading, and mumbling, "I _do_ say that, I _do_ say that."

Lesey got extremely irate, but that is yet another story.

I saw to it that copies went to some other friends and acquaintances, including Sweetman and Niemanas, both of whom were away for the semester, and I received request for an additional dozen copies.
Pinkle, ".. sweet"

Endsley, "I would flunk him if I were his advisor."

Barsottti, "You don't want us to ask any questions, do you?"

Lesey, "I feel like someone has thrown up all over me."

Gude, ".. vicious, biting, funny"

Dougherty, "It made me sad, I had to stop reading it."

Thompson, "So universal"'

Fink, "Terrific, wonderful."

Dallas (called to say), "It was _my_ review, word for word."

Sweetman, "Wonderful, it was like being there."

Revel, "Terrific piece."
Toles tells me later that Crane threw away her copy, for she couldn't think about it anymore.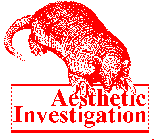 Website Provider: Outflux.net
URL: http://jnocook.net/texts/critique.htm
---