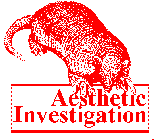 Website Provider: Outflux.net
URL: http://jnocook.net/two/index.htm
---
When I Was Two
photographs by J Cook; chronology by C George
collated September 1978
Stupor Mundi
-- an album --
with a provisional lexicon based on extent material
minimal book 11
With all due respect to Keith Smith, "When I Was Two" is an album of photographs of Cornelius Cook, age 1:0 to 2:6 -- Jno Cook 1978, 1983, 1998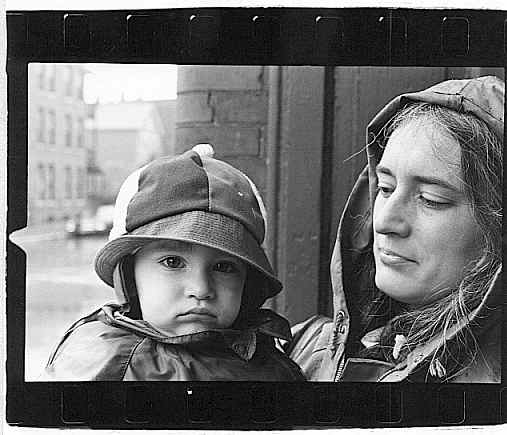 Permanent Additions to our Vocabulary
Zats - Pacifier; from, "wharz ats?" (Where is it at?)
Nurren - Blanket; from, "a nurren?" (And the other one?) At first Nurren and Zats were interchangeable.
Ha'ka'ka'dough - Helicopter
Sharps - Claws; from a warning concerning knives, needles, and cat paws.
E'ams - Letters, words; from C's explanation of the directions printed inside the washing machine cover, "Ahum, ahum, ahum."
Habby - Birthday party, cake; from "Habby Birthday to ..." a song.
Catchrow - (or cathrow) Cockroach
Rauw - (row) Tiger, lion; from the sound made by..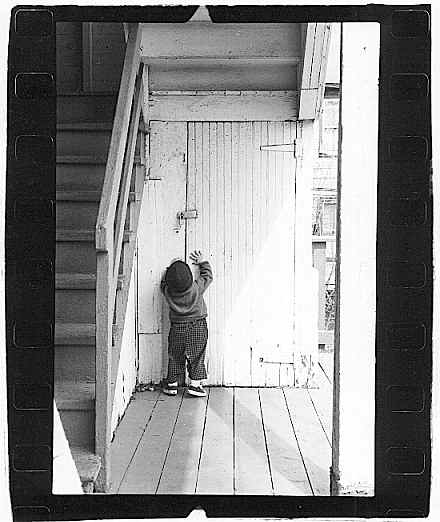 Proper Names of his own Invention
Foo - Phil Fantl, JoJo - George, Cub - Jacob, Lon - Milan, Mimi - Mary.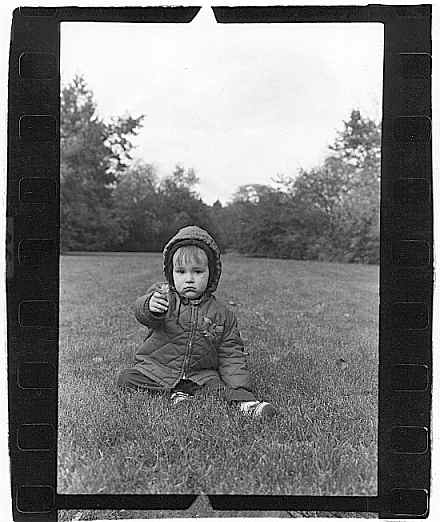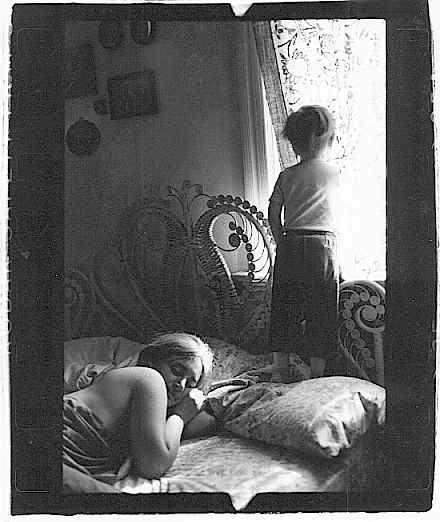 A tentative Lexicon at 1:1
âjew', â'djew', â-djaa' - gimmi, at times, look there, falsetto on both syllables. First form possibly from "juice," last from "John" See aah'-daah'.
hey'-dâ', waa-dew' - what is happening? (with surprise)
waa-dew', waa-djew' - what is happening? (casual)
waaj-dew', waaj-dhoo', -too' - what are you doing? what is it? (probably derived from, "what [are you] doing?")
â-wee-doo' - this (is what is happening), there.
dhâ - that
â-dhâ - that there
â-gigi, jo'-wâ - take this (second form emphatic)
djaa-djaa-djaa - (aggravation sound)
ah'-hâ (equivalent to, ho-hum, ho-hum)
aah'-daah' - John, and where is somebody? (second meaning dropped)
aah'-daah-daah, aaah'-djaa'-djaa' - John (emphasis and falsetto on all syllables)
hâ - hello (to strangers only)
âh, âh, âh - (simulated bark) (used for dogs, animals, animal pictures, never for humans)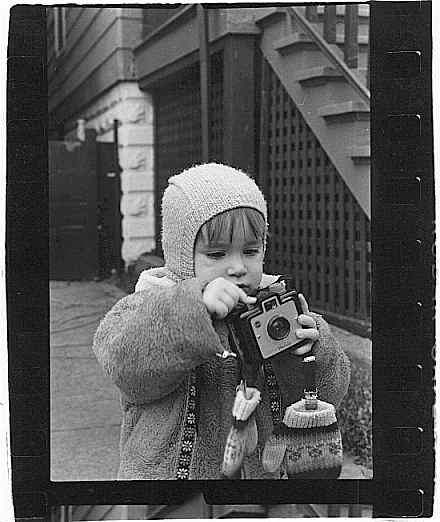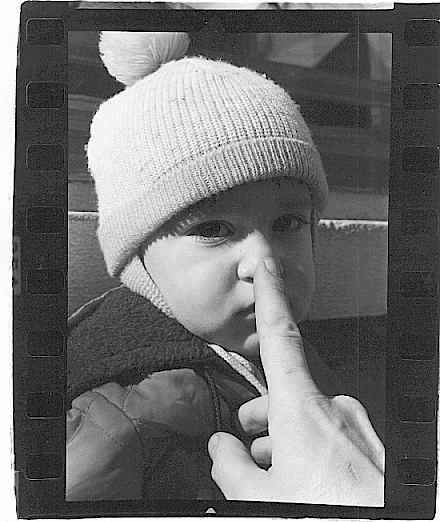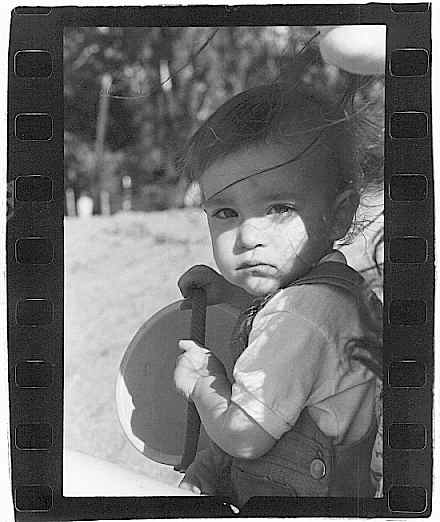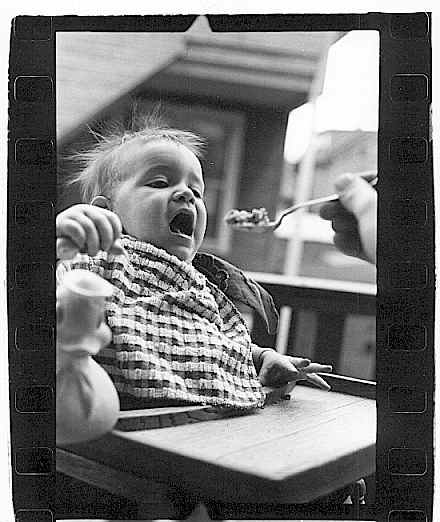 a Chronology
0:10

says AHCHOO, took three steps

0:11

1:0

1:1

HOT, OUT, PUT-IT-BACK, "hot" is his first word

1:2

HI, DAH (John), DAH-DAH (mama)

1:3

TEETH, SHARP, JUICE, CHEE (cheese),
J: we sit on the backporch for him to fall asleep, look at the moon, stars, and lights. He points at all airplanes and asks, "Huh?" Then I say, "Airplane."

1:4

COCK (clock, first generalized noun), SHI(R)T (soft 'r'), MOOM (moon).
FAF (fan, second generalized noun. Later learns to distinguish air-conditioners from fans, but never uses a word for them), CA (car)

1:5

SHOES, WAS HOT, JOM (John), NANA (banana, later uses the same word for his grandmother)

1:6

BABY (himself; uses this for himself for almost a year), COCK GO? ALL GOM, OUT (again), DOWM (down), HANDS

1:7

TONGUE, BALL, COLDH MORHE (?), COBBY (coffee), CACKER, HUG

1:8

CUCKOO COME, swears Mary: IWANNASITINMYCHAIR (no-one believes her).
on looking through a catalogue: FIND COCK
about a doll on the space heater: BABY HOT (Dolls have been called babies)
OPEN, POT, WALL
[additional words not recorded]

1:11

2:0

HABBY KIKI (spends next month singing HABBY-HABBY, to himself for any occasions)
TRAIN; on seeing a CNW train after having a CTA train pointed out: HEBBY TRAIN

2:1

on seeing a broken stick: BROKE STICK, JOM HAMMAH
jumping off the couch: DIDI FLYING (birdy)
gets into backhoes, front loaders, dumptrucks, etc - eventually learns more construction equipment terms from a book checked out every two weeks from the library until we bought it
while pausing in the kitchen with his firetruck: WAIT, LITE

2:2

UPPING, GOTTING, I LIKE TOWWE (tower is any block construction)
I SEE BACKHOE, GOT JUICE (have already)
to a puppet kitty: KITTY GOTS SHARPS?
upon a request to wash his hands: MAMA DID, I DID (meaning we both did already)
on seeing a band-aid on John when he also wears one: OH GOSH, TWO AINEE, JOM
plays LOM on motorcycle frequently, with helmet and goggles
seeing the house from the alley while approaching: I SEE HOME; COWYA (Claudia)

2:3

Talks to passing neighbors from the backporch
after seeing a parade, anyone making music: MACHING BAND
seeing a book with a mouse at a fireplace: MOUSE LOOK FIRE
his name: CASEY; uses MINE for I
asks Ed on the phone: IS MIMI HOME, and announces, MIMI COMING MOM (good, considering that most phone talk was totally unintelligible)
at tracks: TRAIN MAYBE COMING; GUNNING for shooting
steps in cement; gets a sandbox; seeing a cuckoo on TV: LIKE MIMI (like Mary's cuckoo clock)

2:4

GARB (garbage); plays garbage man and truck: whirring sounds interrupted by HEY!
We saw "Star Wars." On seeing a kid with a Dart Vader T-shirt: OH GOD, MOVEY, PLAY LITE (light sabers, the kids call them light savers)
CATHROW, GHEE
after seeing a book on whole vs broken, and seeing an egg: WHOLE EGG, then, transposing: WHOLE ME
on random building with blocks: ME DON'T KNOW MAKING; starts MINE KNOW ABOUT ...
comment on a butterfly seen outside: BUTTERFLY, LOOKING PLACE TO SIT
saw a MASSED MAN (who went to New York, we said). Two weeks later Liz mentiones NY, he says, NEW YORK?
During washing machine wash cycle, looking at the WC, where it dumps: MEMBER SOAP? MAYBE COME LATER.
On playing with water, which C shuts off when he left the sink: GO BATHROOM, PEE, YOU TURN OFF WATER
on seeing a squirrel going up the side of a building: CAREFUL SQUIRREL, and on asked why: CAUSE MITE FALL DOWM, GET HUT
on pretending to be Chew Baca (with sharp toes), changes to R2D2: NOT SHARP TOES, WHEELS
on request for special privileges, typically: MAMA SAYS YES, and when this is rebutted: MAMA SAYS NO, JOM SAYS YES (ITS ALRITE), and once, to get more support, pointing to hobby horse: HORSEY SAYS YES.

2:6

Having been told he has a humidifier in his room due to a cold, and being in the kitchen needing to cough, HAVE TO COUGH, GO TO MIDDIFYER
playing with a cardboard birthday cake with Claudia, rejecting a slice and taking another: MINE DONT LIKE HOLES (a condition of his original piece)
becomes adept at role switching, often working out situations with Claudia being him, he Claudia. Example: Claudia is Kees, he is mama; mama (k) shows Kees (C) the vitamin pills: WANNA SEE PILLS? Even opens the bottle to show one, then quickly changes (always announcing his roles): YOU KEES, ME JOHN, TAKE PILL (it almost worked).

2:7

Trouble with leading "s" 'NO (snow); on first snow, disappointed: 'NO COME, DON'T MAKE 'NO-MAN
asks John to make a MOKE DAG, which is finally deciphered as "smoke stack" (for a dump truck). Oh, says John, A sss-moke sss-tack. Repeats Kees, SCH - CH - MOKE DAG.
On being corrected, for example, Don't lie on Ghenges: I JUST LIEING ON GHENGES.

2:9

Creates, with blocks taped together, the first letter of the alphabet, calls them DEL and WEE.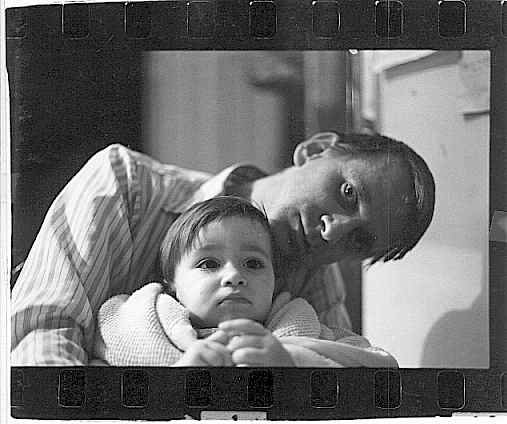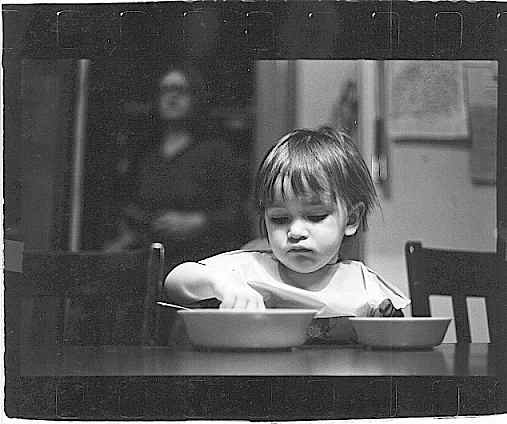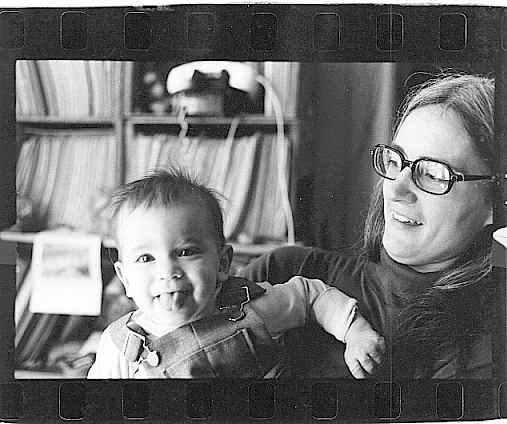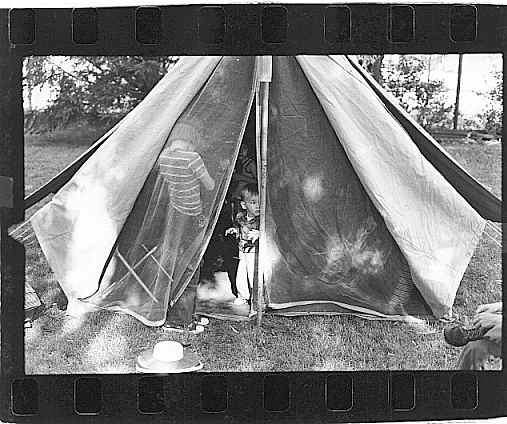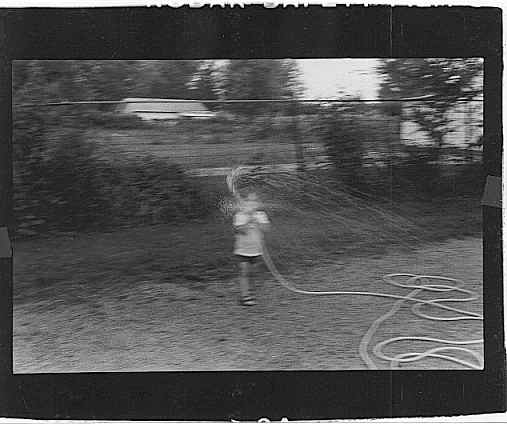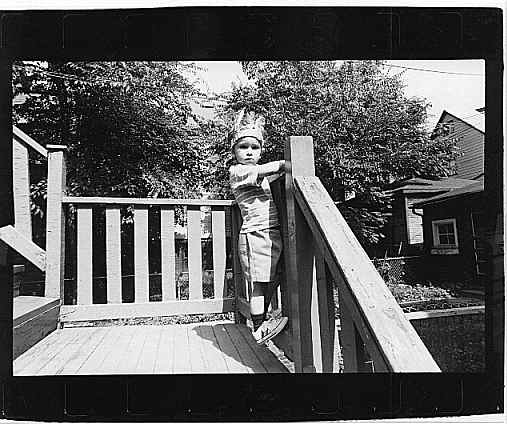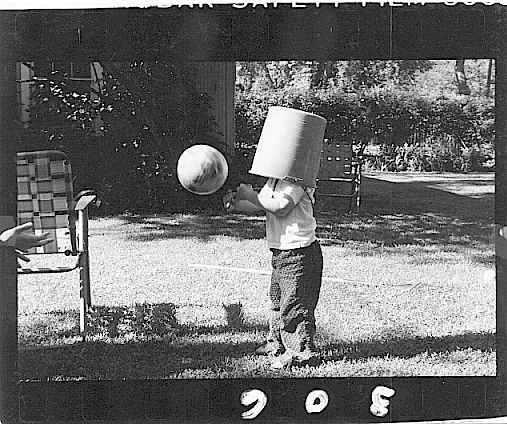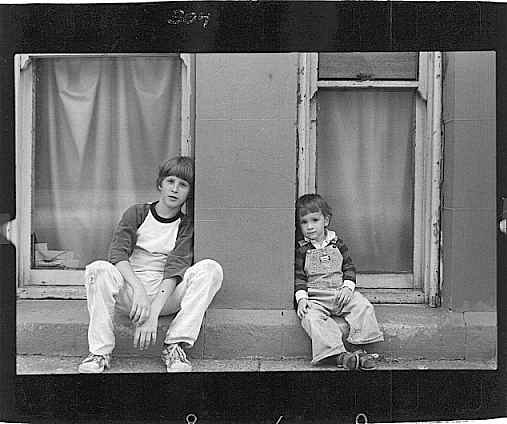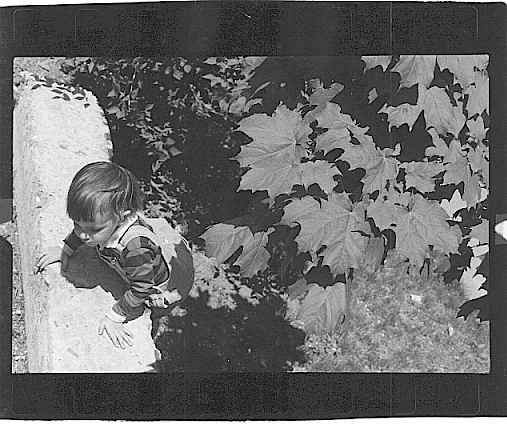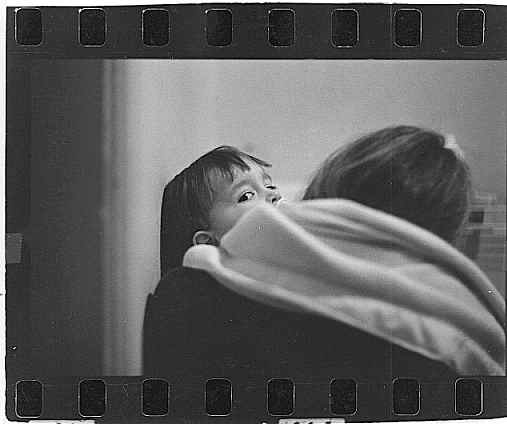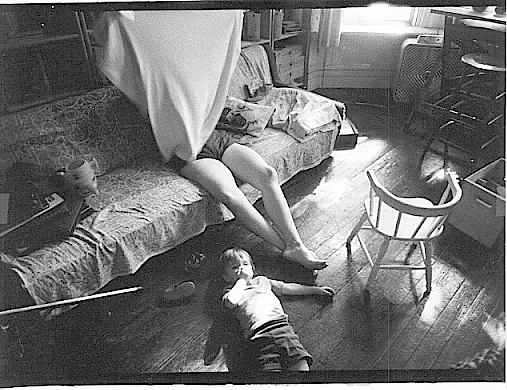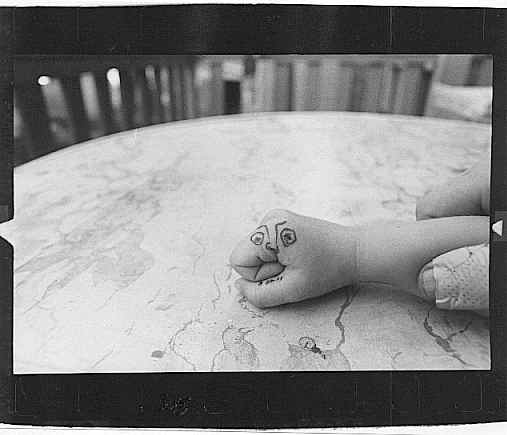 Early Action Figures
Man talks a lot.


Dummy says, "duh" a lot.


Ha'ka'ka'dough helicopter, rotor at top, door below.


Fox ears wiggle, eats cheese and chickens.


Row actually a lion, has sharps, growls.


Snake crawls, hisses.


Butterfly looks for a place to sit, then pumps his wings.


Cathrow or Catchrow a cockroach.


Spider climbs down a thread, then walks away.


Bunny wiggles ears and nibbles.


Bird wings flap, eats cheese, sings, and whistles.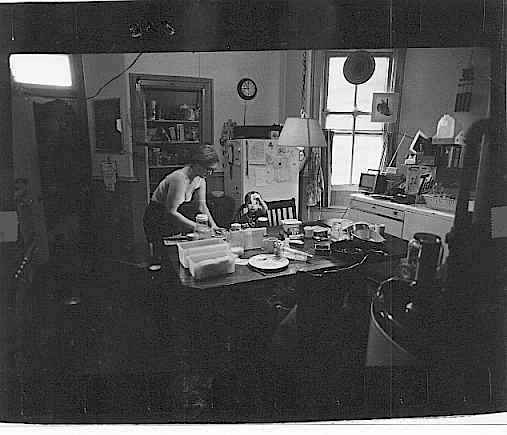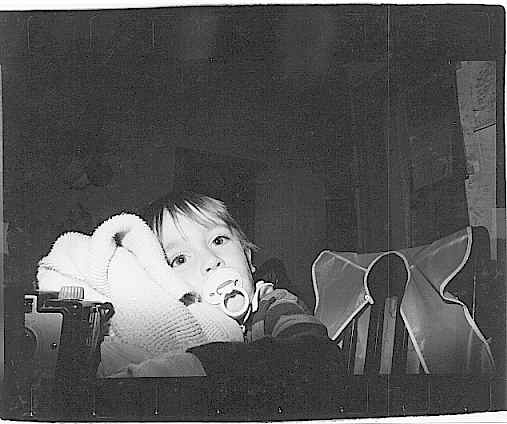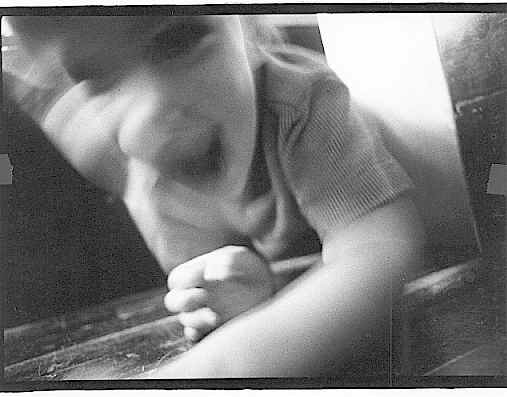 ---