Giant Yard Sale
(updated 15 April 2003) This document lists cameras, optical instruments, computer components (mostly PC), and other equipment offered for sale.
Prices are flexible, make an offer at any time, I might take it. All items are cash. All items may be inspected. I will not ship big stuff; you can come pick it up.
Contact Jno Cook via [email]. I'm in Chicago.
Things you can jump to, below:
[16 x 20 view camera]
[16mm Bolex and stuff]
[giant vacuum frame UV printer]
[11x14 box camera and tripod, holder]
[carnival tent - big]
[ask about other stuff I haven't listed yet]
Stuff I haven't gotten to.. see the list at the [below].

---
16x20 view camera, $490.00
Equiped with a 18" focal length lens, stops down to F/16. Original lens is the front end of a 36" Aerial lens (B&H, Type I). The lens is 7 inches in diameter and opens to F/6. Rack and pinion focussing. Ground glass viewing screen. A single film holder with a black slide, takes 16x20 lith film. Weighs a ton. Mechanical Packard shutter. Mounted on a little red wagon. Since 16x20 sheet film is not made, use lith film (graphic arts ortho film) and develop in Dektol 1:2 for 1 1/2 minutes. In good working condition.
Reason for sale: Gotta get this out of my living room.
More images below.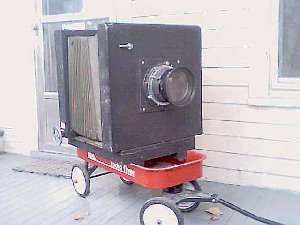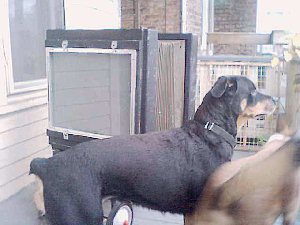 The front, showing the lens and shutter - yes, that's a flush handle.
The back, showing the removable ground glass. Sorry about the Rottweiler and Colly.
---
16mm Bolex Camera, lenses, other stuff, $800.00
The Bolex is a H16 Rex, that is, a single lens reflex, but with a side mounted viewfinder also. Sn 183xxx. The lenses: All Paillard prime "Switar" lenses: 75mm F:1.9, 25mm F:1.4, 16mm F:1.8, plus a Sony Zoom lens, 12.5 - 75mm F:1.8. Lens caps, shade for the 75mm.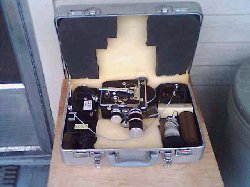 Electric motor, runs on 24 VDC, either from a 120 VAC transformer, or from some Ni-Cad packs (Which I haven't charged in 10 years). Separate charger for the Ni-Cads. Extension tubes, various lens caps, hold-down for the lens turret, 6 filter inserts, filter cutter, rewind crank, long cable release. And the foam padded aluminum case. And the original manual.
Used 10 or 15 years ago for a single assignment of shooting some titles.

---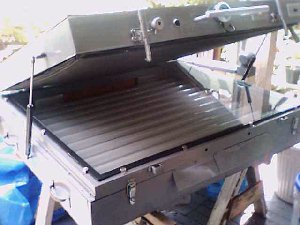 36x48 ultra violet vacuum frame printer, $500.00
Ultra Violet printer with vacuum frame; 36 x 48 inch area, uses unprotected UV lamps. Controls: Timer (7.5 minutes), pilot light, vacuum gage, time/stay-on switch, vacuume pump switch. Includes industrial quality vacuum pump (not shown), exhaust fans, easy access to lamps, lift assist air cylinders, carrying handles, 1/4" glass plate. Aluminum frame, except for the light box which is 1/2 wood frame with masonite base. It's heavy, but easy to transport.
Additional photos below: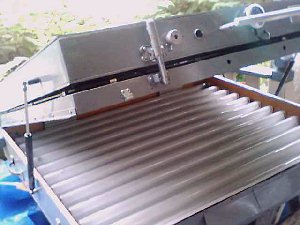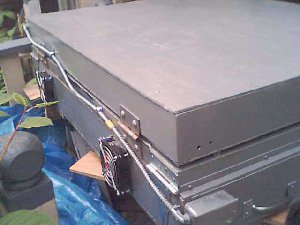 Showing access to the lamps. And rear view, showing exhaust fans.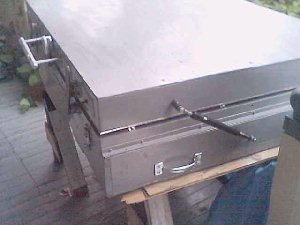 Side view showing one of four handles, lift cylinder And front view, with cover closed.
[contruction details]
---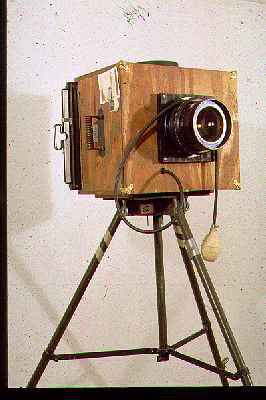 11x14 box camera, $95.00
Equiped with a 10" focal length lens, stops down to F/16. The lens is 5 inches in diameter and opens to F/8. Absolutely no focussing, this is a box camera. A ground glass viewing screen which, however, does not fit all of the rear space. A single steel film holder (from an oscilloscope camera) with black slides, takes 2 sheets of 11x14 film. Air operated Packard shutter, line and bulb. Weighs a ton, since the box is constructed of 1/2" plywood. Includes a heavy duty tripod which attaches the camera with two 5/16 screws.

---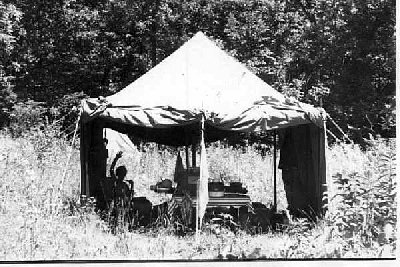 Carnival Tent $65.00
Carnival tent, 12x12 or 12x18 feet, 10 feet high at the center, 6 feet at the edges, light brown canvas fabric with red and white striped fringe at the edges, hard to put up (takes an hour), use either two or three of the overhead sections -- with either a single or with two center poles, 12 edge posts, 2 center posts, ropes with steel tighteners, some 18 inch iron stakes (re-bars), storm ties, post to post steel tubing which fit onto the poles, walls in various size sections -- attaches with shower curtain hangers (some sections missing for the larger format).
Used in the 70's to camp with 5 kids. Has withstood torrential rains and winds, not used much in the 80's except to get married under. Had it up last year in my back yard for 4 months. If you are not used to giant fabric tents, don't get this. Requires Boy Scout tent experience.
Ask About..
Stuff I haven't gotten to listing yet..
Craig 16 mm editor - really good
Lab Microscope, Navy Surplus, 3 pc turret, 2 eye pieces, mcrometer stage, iris adjustable mirror, wood case.
Industry Standard light source for calibrating camera and optical printing devices, from the 50's or 60's
18x18x18 heavy duty equipment cases, metal outside, 1/2 pw, handles, locks. 3 pc.
Small plate burner. Homemade, will cover roughly 16x20". exhausted, upright, printing frame.
Graphics pad, 14x10" with LPT input, directions for CAD input, pointers, micro mouse.
some various 16mm and 35mm (movie) cameras
Bolex 8mm (double 8).
16 mm editing equipment.
35 mm editing bench, rewinds (one motorized) frame counter, two 35 mm right angle viewers, but not frame indexed.
16x20 graphics arts camera, timer, vac frame, adjustable lens board, ground glass screen, 2400 watt 5600 K lights, tapes, rack focus, modern lens with Waterhouse stops.
---
Aesthetic Investigation Website
Site Host: www.Outflux.net
URL: http://jnocook.net/sales/index.htm

---